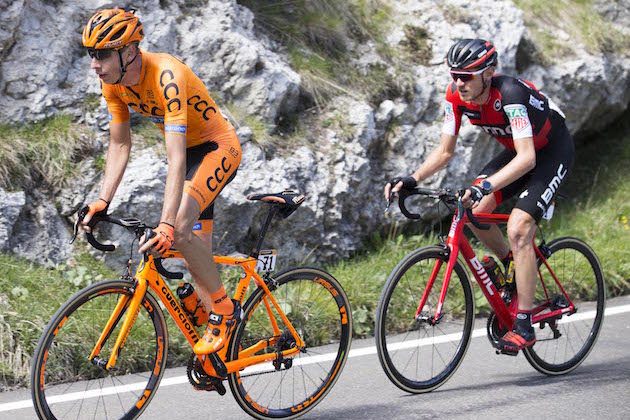 The future of BMC Racing Team was confirmed on the first rest day of the Tour de France with the news that Polish shoe and bag company CCC will become title sponsor in 2019.
CCC owner and president Dariusz Milek joined BMC Racing Team General Manager Jim Ochowicz at stage 9 of the Tour de France to sign the partnership and confirm current Tour de France race leader and 2016 Olympic Champion Greg Van Avermaet as the team's marquee rider.
Milek, whose company CCC has been a sponsor at the UCI Professional Continental level since 2006, is excited to see CCC join the UCI WorldTour in a move that will see the brand's visibility increase on a global scale.
"I am excited to see CCC partner with Continuum Sports and reach the highest level of cycling. We have been looking for an opportunity to join the WorldTour and this was the perfect chance to partner with a well established and respected team, with Greg Van Avermaet as team leader," Milek said.
For Ochowicz, the partnership with CCC represents an opportunity to begin a new and exciting chapter in the WorldTour for Continuum Sports.
"It is no secret that we have been looking for a new title sponsor for 2019 and we are excited to be here today at the biggest cycling race in the World to announce CCC as the title sponsor of Continuum Sports from 2019 onwards. CCC president Dariusz Milek shares the same passion for cycling as our organization and together we can continue to build on the team's existing success," Ochowicz explained.
"To also be able to announce that current Tour de France race leader Greg Van Avermaet has renewed his contract beyond the 2018 season in an exciting way to begin this relationship. We have seen Greg develop into one of the best riders in the World and we are delighted to retain him as the team's star rider in 2019. We have a busy few months ahead of us as we begin to plan for the next season so I am looking forward to welcoming CCC as title sponsor."
"I'm really happy to be able to announce my plans for the future, especially today when I can still say that I am the leader of the Tour de France", Greg Van Avermaet added.
"I have spent eight years with the team and have had so many good moments over those years so it's exciting to know that we will continue together. To have a team more or less focused on me and the Classics is a unique opportunity and I'm looking forward to next season with CCC as title sponsor. I think everyone will be happy to learn that the team is continuing, for the sake of the riders and staff but also for the sport of cycling,"