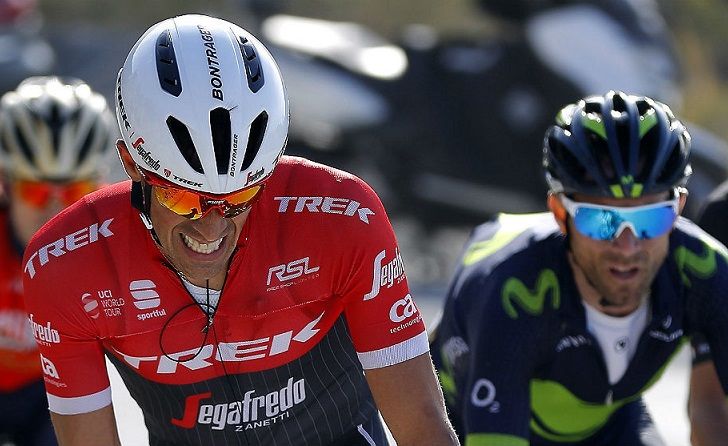 Alberto Contador officially ended his career at a Tour de France criterium in China.
The 34-year-old announced in August that he would retire this year, ending a career in which he became just the sixth rider to win all three grand tours.
"Cycling was a very big part of my life, and a very big passion, but it wasn't my whole life," Contador told La Gazzetta dello Sport. "I was happy for 15 years. I gave more than 100 per cent. I gave all my time to this sport, but now I have the rest of my life to live and enjoy myself.
"When you're a professional, you have to train even when you are resting. Even after four hours of training, you have to look after yourself at home with your eating and your rest. These are the small things that allow you to win. The life of a cyclist is also about being a slave to small details. At a mental level, above all, it's very hard. I was sick of all these things."
"I didn't know the Italian public or the course," Contador said. "I arrived at the last minute when I was called up by the team and I won the race. It was a very strong emotion."
Although Contador said that his idol as a youngster was Marco Pantani.
"I watched Marco on TV and then I studied him on video. With him, anything could happen, even a kamikaze attack from distance. He always inspired emotions. One day he'd lost three or four minutes in a time trial and the next he'd try to recoup his losses. He won a Giro and a Tour, but for the public it was as though he had won five Giri and five Tours. There was never a more exciting rider."
Contador met Marco Pantani in 2003 at the GP Amorebieta.
"I said to him, 'I'm Alberto Contador, it's an honour to meet you.' And he said, in a very kind way, 'thank you very much.' Pantani wasn't just anybody for me, he was a rider to be respected," Contador said. "Maybe there was a bit of Marco's spirit in me. I was always a non-conformist rider. It was better to risk losing everything by trying to be first, than to settle for second place."