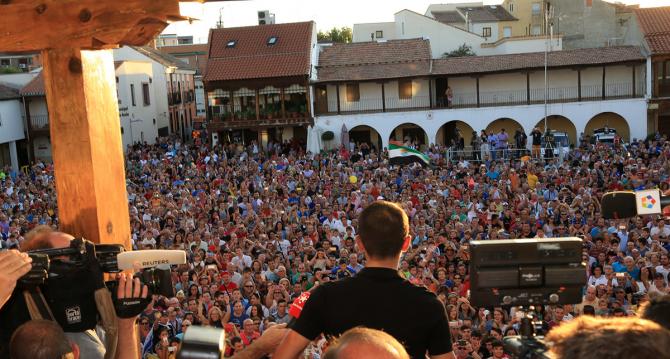 Alberto Contador has received a massive tribute in his home town of Pinto, Spain, as the multiple Grand Tour winner returned home after Vuelta.
Plaza de La Constitución was full of people with flags and banners showing texts like "Thank you, Alberto", "You are the best" or "One more year" which was also the main chant during the entire evening.
After being welcomed by the town's mayor, Contador stood on the balcony of the town hall to address the crowds.
"I remember the tribute of 2007, it was impressive. Now it looks like this will be the last one and I'm just as happy, maybe less surprised. I say goodbye in an unbeatable way. I didn't imagine everything was going to be like this," Contador said.
"I think there's no better time to leave. When I started I had three dreams: to be professional, to ride the Tour and the other was to win it… to say goodbye in this way, I could not have done it in a better way."
"I will turn to my Foundation, which has two branches. The first one everyone knows, where we have a team that continues to grow and our intention in a couple of years is to reach the top category of cycling," he said. "But the other is the least known, the stroke. I suffered one and for that I want to dedicate myself so that people know the disease well and above all know how to detect it in time."