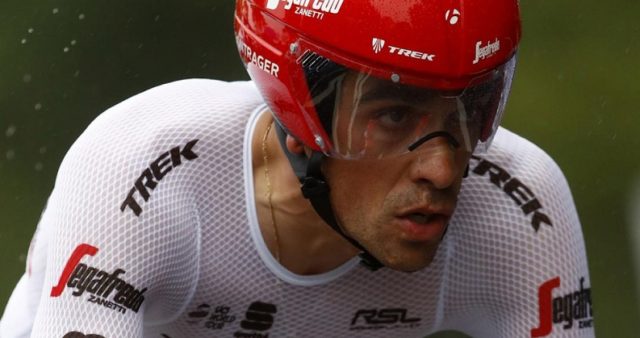 Alberto Contador opted to ride a conservative and safe opening time trial in the 2017 Tour de France after continuous rain resulted in a wet and dangerous course.
Contador's time of 16 minutes and 58 seconds placed him well down the stage standings in 68th place, but within the times of most of his rivals, except for last year's winner Chris Froome (Sky), who gained 42 seconds on Trek-Segafredo's leader.
"It's hard to say if Froome took risks because he has not fallen, but it is clear that he has gone very, very fast," said Contador about the significant deficit. "Evidently the most important thing is to save these first days. It is true that for this TT to lose 42 seconds is a lot of time, but on the other hand, with everything that is ahead, there is a chance that this will change.
The rain created ice-like roads on the 14-kilometer course in the streets of Düsseldorf causing many riders to slide out in the tight corners. The worst casualty of the day was Alejandro Valverde who fell and slid into a roadside barrier, forcing him to abandon the race in an ambulance. It was a big blow for Movistar and affected the race of Contador, who started after his compatriot.
"I heard that Alejandro had fallen and we decided to go very carefully in the corners," explained Contador. "My priority was to go in the corners with great care, and in the straight lines I think went quite fast.
"In the parts where I had to pedal I felt good, although 42 seconds is a lot for 14 kilometers, but this has just begun. Obviously, Froome has made some great differences, he is ahead, so there's no other way but to go on the offensive. But until we get to the first mountain stage and see how the legs are, you cannot say what tactic to adopt."
"It's a huge pity for Alejandro. It costs a lot to prepare the Tour de France, it is almost half a year preparing for it, and in the first corner, you go home. I want to offer him my encouragement and now, obviously not, but surely in two days he will start thinking about the Tour of Spain."