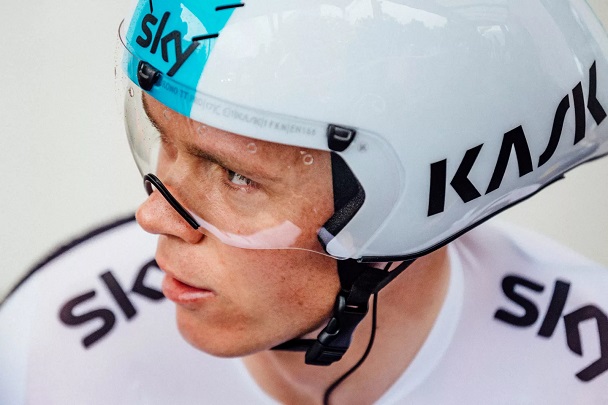 Chris Froome was a happy man after a rousing opening to the Tour de France which saw him take time out of his rivals, and team-mate Geraint Thomas move into yellow.
Froome admitted he took few risks on wet roads around the 14-kilometre course in Germany. The three-time Tour winner was able to take 35 and 36 seconds respectively out of Richie Porte (BMC Racing) and Nairo Quintana (Movistar), and 39 from Romain Bardet (Ag2r).
"I think if you'd told me at the beginning of today that this is what the GC would look like after the stage I'd have definitely taken that," he said.
"I went really cautiously around a lot of those corners. I went in with the mentality not to take any kind of risks. A lot of guys hit the deck today and it just wasn't worth it. But on the straight bits I felt I was able to push quite hard. It was great to have that feeling, especially given that my time trialling this year hasn't been up to my normal standards.
"I think we can take a lot away from that as a team. To have four guys in the top 10 just shows the strength of the team we have here."
Froome also expressed his delight to see Thomas pull on the maillot jaune. Paying tribute to the rider who has helped him to his three victories, he added:
"I'm just so happy for G. To have won his first stage of the Tour de France and to be in the yellow jersey as well – it's just incredible. I can remember my first time and it's such a special moment. I think it's something that G will remember for the rest of his life.
"For us going forward as a team I think it's going to lift everyone's morale now for these next few days. It's going to mean that we're going to have to be on the front protecting that yellow jersey, which isn't a bad place to be given all the road furniture, potential cross-winds and rain tomorrow. I think we've got the team to ride on the front so I'm looking forward to these next few days."