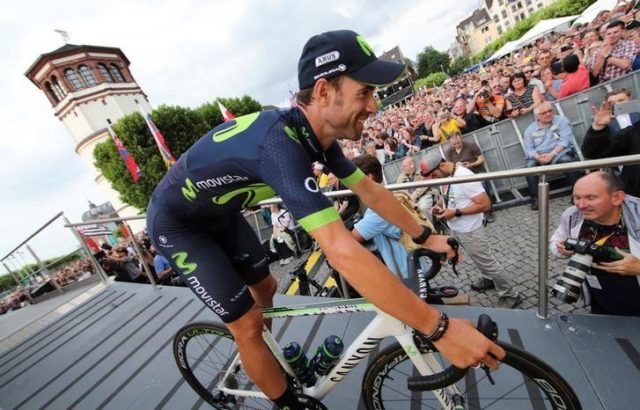 The 2017 Tour de France barely lasted seven kilometers for Alejandro Valverde (Movistar) as he suffered a serious crash during the race's opening TT in Düsseldorf, which forced him to abandon.
Transferred by ambulance to the University Hospital in Düsseldorf, examinations confirmed two fractures to his left leg: one in his kneecap and another one in the talus bone. Valverde also suffered a deep wound to his tibia, without any muscle tissue affected by that cut.
The doctors taking care of Valverde's condition have decided to operate him on his kneecap fracture tonight, which means that Valverde will remain in Germany for the next few hours and the schedule for his return home is still unconfirmed. The recovery time expected by the Movistar Team's doctors makes it unlikely for the Spaniard to return racing during the current season.
It's Valverde's third DNF in the race, the Movistar rider being unable to complete any of his first two Tours (2005, 2006) but a consistent feature at the overall top-ten of the race, six times in the last ten years, plus a podium finisher (3rd) in 2015.
"It's really difficult for all of us – he's a very important human being and a great team-mate", said Nairo Quintana. "I just hope it's nothing really serious. It's awful to see his race ending that way, so early."