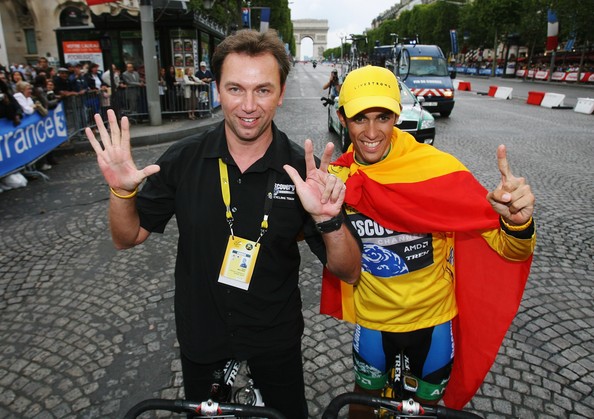 Alberto Contador's 2010 Tour de France  win and his dominant 2011 Giro win were both stripped after a positive test for Clenbuterol.
He vigorously claimed that he ingested tainted meat, but the cycling world was unsympathetic and his vacated wins gave Andy Schleck and Michele Scarponi their only career Grand Tour victories.
In a recent interview on Onda Cero radio station, Contador has discussed the doping case and said that  his final palmarès includes three "triple crowns", with three victories in each of the three Grand Tours.
"From that experience I keep the feelings of the people that saw and enjoyed those races, and the results of my work and what it cost me to achieve what I achieved. I don't give any importance to something that is written on paper, I give it to my own feelings.
"It was a tremendous injustice. My palmares at the end includes three times three Grand Tours, but it is a complicated subject to think about. At the end nothing is going to change and people who have been interested in the facts know that what happened to me is one of the biggest injustices that have ever happened in the sport."
The Spaniard also spoke about the day that made him take the decision to retire after the Vuelta.
"I had doubts about it before the Tour but before the Vuelta it was already decided," he said. "In the days before the Tour I had very good numbers and I even considered the possibility to retire after the 2018 Giro d'Italia.
"During the fifth day of the Tour, at the Planche des Belles Filles, I didn't have good feelings but I finished. But during the ninth stage to Chambery I had two crashes that took me out of the General Classification fight. When you're 25 you think you have other opportunities to win, but at my age you're considered old and you can see that in the performance of the stages. That day made me take the decision to retire."