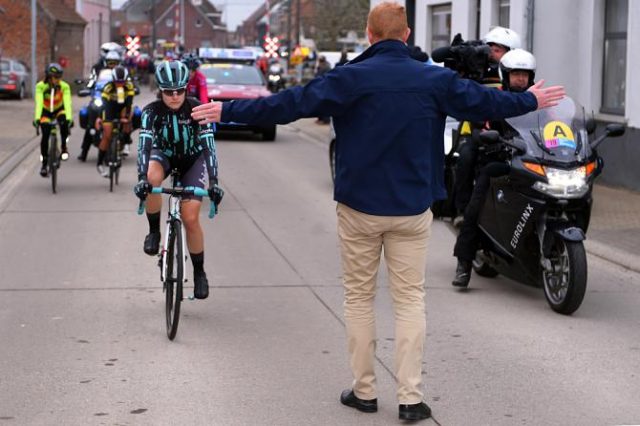 The women's race of the Omloop Het Nieuwsblad was neutralised for several minutes when Nicole Hanselmann (Bigla) almost caught the men's race in after a solo breakaway.
Race organisers set up parallel starting grids with the men departing ten minutes ahead of the women, but this led to an awkward moment when, just 35 km into racing, the women's peloton caught up with the tail end of the slower moving men's race.
Nicole Hanselmann was leading the women's race when she was first asked to slow down, and then ordered to stop racing altogether.
The chasers and the peloton soon joined up, and all needed to wait for several minutes in the cold until they were allowed to resume. The gaps were maintained by allowing the leader and chasers to start with the previous intervals.
"We came too close to the men's so we had to get a neutral time gap again so it was a bit sad for me because I was in a good mood and when the bunch sees you stopping, they just get a new motivation to catch you," Hanselmann said.
"The race jury just said we had to neutralise the race because we are getting too close to the men. We could just see the ambulances of the men's race. I think we stopped for five or seven minutes and then it just kills your chances."