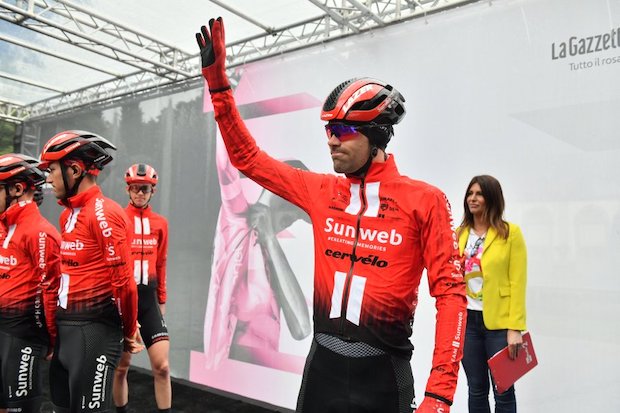 Former Giro d'Italia winner Tom Dumoulin pulled out of this year's race early on in Wednesday's fifth stage because of a knee injury sustained in a mass fall during the previous stage.
The Sunweb rider signed in and embarked on the fifth stage, which got underway under driving rain at Frascati, but once he starting pedalling the Dutch rider decided he could not continue.
Dumoulin, who won in 2017 and was second last year behind Chris Froome, had earlier insisted he would tough out the race.
"Knee still hurts but we hope it will get better through the day. Will give everything I have to make it. Fingers crossed," the Dutch rider wrote on Twitter before the stage.
However, he abandoned the race shortly after the start of the fifth stage.
"I was actually kind of ok until I stood up on the pedals and then I had a huge feeling of pain in my knee. I also tried to some higher power while seated but that also was not possible," Dumoulin said. "I can turn the leg and I can spin the legs, so I could do a recovery ride today, no problem – but not a race."
"I went here for a three-week adventure and I wanted to finish it. I was and I am not ready to go home yet. I didn't want to be at home in two days' time with my knee less swollen and realising that I would have been able to ride. Then I would be feeling sad that I didn't try. I thought maybe if I pushed through and with some painkillers today it would have been possible. I would always have asked myself that question."