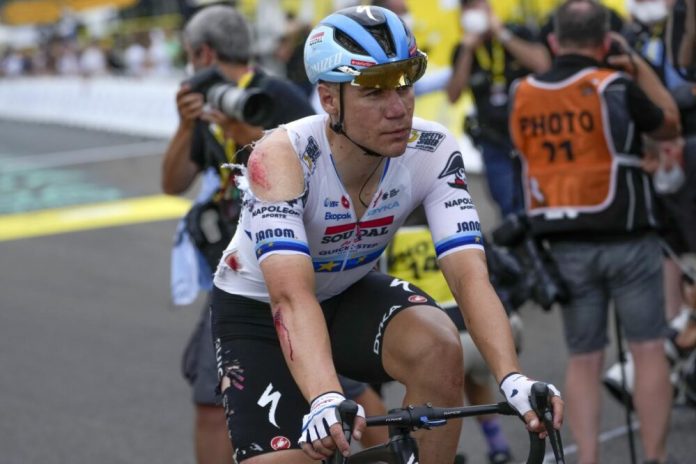 Fabio Jakobsen has left the Tour de France ahead of Thursday's 12th stage, saying it was impossible for him to reach Paris following a crash.
The European champion hit the ground at high speed during the fourth stage of the three-week race and has since struggled to recover. He decided it was time to stop ahead of a difficult mid-mountain stage that will be followed by three grueling treks in the Jura and the Alps.
Jakobsen also confimed he spoke with Patrick Lefevere, the team boss of Soudal Quick-Step, during the Tour de France and he will leave the team at the end of the season.
"We said we would go for this Tour, we want success," said Jakobsen. "At the end of the conversation I got a hug from him. But unfortunately I can't stay. I need to find another place, another team. It is in process and it looks good."
Jakobsen is close to sign a contract with dsm-firmenich. Transfers may only be announced on August 1, so the 26 year-old rider couldn't say too much about it.
"It could be," he said on Monday's Tour rest day, with a smile. "But that is something for after the Tour, I want to perform here with my second family first."
Soudal Quick-Step mainly wants to focus on world champion Remco Evenepoel in the coming years.
"And Tim Merlier has signed for three years," added Jakobsen. "If I stayed for two years, I would have to share a program with him, another top sprinter. And with Remco. I want to go to the Tour, I want to sprint. I don't think that will work at Soudal Quick-Step in the coming years."