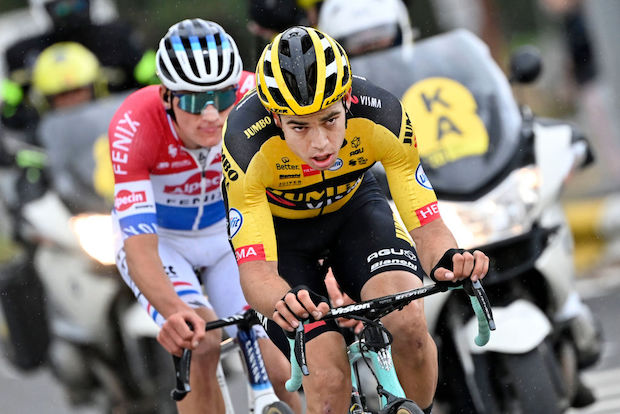 Winner of first Monument of the season in Milan-Sanremo, Wout Van Aert was beaten by Mathieu Van Der Poel to the line by a matter of centimetres in Tour of Flanders.
"I think I will play that sprint again a few times", Van Aert said after the race. "I raced the way I like to race, I cannot immediately catch myself making major mistakes. Mathieu was just a little bit stronger. I wanted to be the first, but waited just a little too long."
"Normally I have a little more length in my sprint, but I have not used that enough now. In the run-up to the Kortekeer, I already fell hard. I was on the right side of the road and at the front of the peloton there was someone braking. A few rows further it becomes a full stop and I couldn't brake hard enough. I was quickly gone, but I lost the good feeling for a while. It is not ideal, but I was without damage. I still had good legs.
"When I came down the Stationsberg my chain came off. Fortunately, I was able to close the gap on the Taaienberg. I pass it quickly and if he (Alaphilippe) fell because of that, I have to apologise. As a rider you always have a reflex to seek out the slipstream of the bike for as long as possible. It looked painful. I hope he is ok. It is also a shame for the race, otherwise we would have had a final with three. We both understood that we were not going to knock each other off and trusted our sprint."
Regarding the cyclocross season, Van Aert said: "I have not set a schedule yet. All I know is that I'm going to put the bike aside for two weeks now. I will need the month of November to build up."