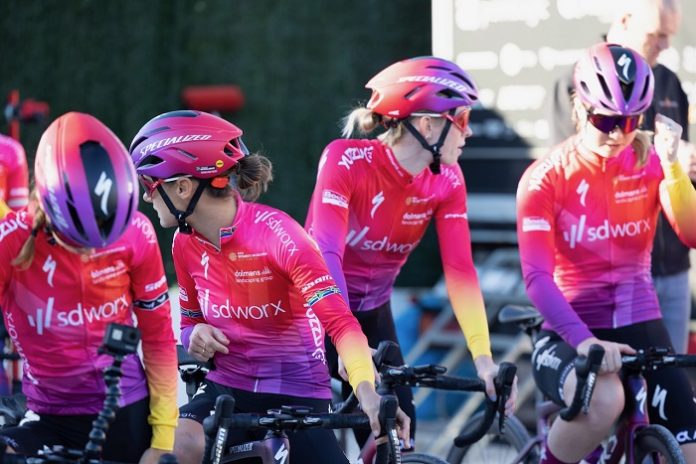 Taking up a new hobby or sport can be costly, but cycling is a cheaper option compared to others. With all the bike shop gear available, it's easy to spend thousands of dollars on things you don't need. You might wonder if it's necessary, what you need or what you don't need, or whether items specifically marketed to women are required.
In this article, you'll go over some cycling clothing tips for women, as well as identify some of the best high quality women's cycling apparel for you to consider for your next ride.
Know the Reasons Cycling Apparel Exists
While it may appear that all cycling clothing is created equal, this is not the case. 
Cycling apparel exists for two primary reasons: safety and comfort. When designing for safety and comfort, there are a number of factors that are taken into consideration: how it fits, how and where it protects, whether it restricts movement, and whether it's sweat-wicking.
The truth is that you can ride a bike without any special cycling apparel, however the proper gear will make your rides more comfortable. While you don't have to spend a fortune on branded clothing, the overall quality of the riding gear should be of importance when making your purchasing decisions. 
Here are a few more reasons why proper cycling apparel is important:  
Fit:

Cycling clothing is designed to stay in place even if you're leaning forward, so you don't have to worry about it riding up and becoming uncomfortable. In order to keep your back protected no matter how much you lean, cycling shirts and jackets have longer backs. Long-sleeved cycling shirts feature longer than average sleeves to protect your arms from the wind. Cyclists wear leggings with a higher waist, and knee and waist bends, making them more comfortable to ride in. 
Movement:

Cycling is a physically demanding sport, so you'll need clothing that allows you to move freely. The clothing designed for cycling is form-fitting, which allows for the widest range of movement, and prevents loose fabric from getting caught in the wheel spokes or the chain. 
Sweat:

Any athlete or active person knows why cotton shirts and pants aren't the greatest choice for their sport. Sweat is unavoidable while cycling, and cotton clothing absorbs sweat. The fabrics used to create activewear are designed to draw sweat away from the body and dry quickly, keeping you comfortable on the go. 
Choose The Clothing Which Suits You Best
Now that you know the key reasons for suitable cycling apparel is a must-have, you must also learn about the various types of cycling apparel and choose what makes you feel the safest and most comfortable.
Cycling jerseys for women are likely to have a feminine cut, with a narrow waist and wide chest. Jerseys are form-fitting in order to provide aerodynamic benefits and light compression. For women who prefer a looser fit, jerseys with a 'raglan fit' offer a more boxy cut, allowing for more flexibility, as well as improved range of motion.  
A tight-fitting waistband keeps the clothing in place and prevents the skin from being exposed when you move, while also preventing wind chill by closing the air gaps at the bottom of the jersey. Check to see if the jersey has a zipper garage, which will reduce chafing, as well as how many pockets it has. 
Furthermore, cycling jerseys generally feature pockets on the back, allowing you to carry a variety of objects without getting in the way of your knees and interrupting your ride.
Layering is essential for a comfortable ride, and not just in the winter. A base layer helps move sweat away from the skin, and can help regulate body temperature in the cooler months. While pedaling quickly warms you up, wind chill should be considered when dressing for cycling. A mesh base layer is ideal for indoor riding or hot weather, while merino wool will keep you warm in the winter. 
Cycling jackets can be categorized into groups: windproof, water-resistant, and shower-resistant. If you'll be cycling for a long period of time, you'll need a jacket that can withstand various weather conditions, while also considering the duration and difficulty of your trip.  It's easy to store and transport wind- and shower-proof jackets that shield you from the rain, but not from the cold, and they'd be useful in heavy summer showers.  
If you wear a thermal or water-resistant jacket in the wrong weather conditions, you'll be boiling. With the thermal keeping you warm, and the waterproof keeping your core temperature consistent, they're both important for cold weather cycling. Note that the chest area of women's jackets will be slightly larger than that of men's jackets. 
These days, there are many brands offering stylish riding apparel for women. A decent pair of bib shorts with the perfect fit will transform your cycling experience, allowing you to go further and faster with greater comfort. Women's bib shorts contain adjusted padding to fit a curvier body. 
Accessories like saddles, helmets, protection gloves, and glasses are sometimes offered specifically to women. Riding with a suitable cycling helmet may seem obvious, but you may still see riders without one on the road. Cycling helmets exist in many forms and sizes, so make sure to get yourself one that fits. Female saddles contain adjusted cushioning to guarantee comfort for the rider. 
If you're buying your riding gear online, product specifications and dimensions are usually described briefly. Before buying anything, get your body measurements to find out what size you need. In addition, add a few inches to your back measurement to avoid sunburn on your lower back.
Endnote
Nothing ruins a great bike ride faster than being dressed inappropriately. The proper apparel can truly make a huge difference in your cycling experience. One of the most significant advantages of cycling for many women is the availability of attractive cycling clothes, so be sure to choose wisely. Still, be sure that the clothing you choose is, above all else, functional and fits well. Gear up, and enjoy the ride!