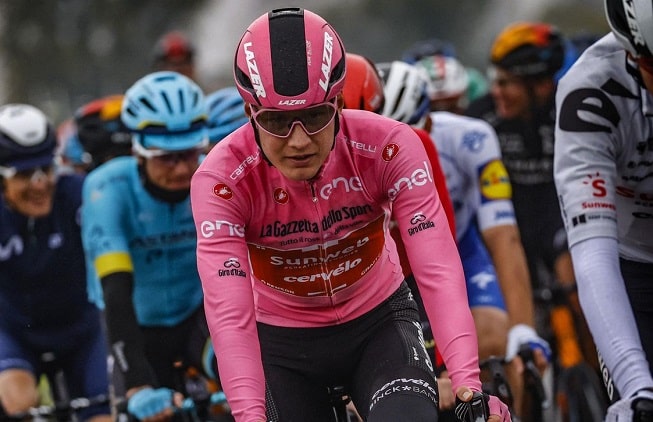 Much has already been said and written about the "Stelvio stage" in this year's Giro d'Italia. The queen stage should have been a definitive takeover of power for Wilco Kelderman, but the Dutchman had a bad moment on the Stelvio and had to ride it alone in the final.
When Kelderman was dropped 5 kilometers from the top of the Stelvio by the INEOS Grenadiers pair of Rohan Dennis and Tao Geoghegan Hart, the team management of Team Sunweb had to make a decision. Jai Hindley, a teammate of Kelderman, was able to follow the pace of Dennis and Hart.
The Australian was ordered to follow the two INEOS riders, while Kelderman had to climb up at his own pace. The Dutchman managed to limit the damage and came 45 seconds behind on top of the Stelvio. At that moment, Kelderman was virtually in the pink jersey with a lead of just under two minutes.
"I had not quite seen it coming that Jai could ride his own course," Kelderman says now. "That I was left to my own devices."
"That had not become clear during the team meeting the night before. At one point I was riding the Stelvio alone, in the wind. Then the frustration begins. You know that the Giro is slipping out of your hands, that you are losing your lead. I did shout in my communications that Jai should wait, but they said, "No, Jai will stay in the wheel of Tao." It was also a difficult situation."
"How often does it happen that you can win the Giro with two men. I don't blame Jai, he did as he was told. I was not good enough myself, I am that realistic", said Kelderman. "I had the feeling that confidence was not there with this racing tactic."
"If Hindley had waited, I would have come really close or I would have won the Giro. Then I would have been very different. The team tactics made me think: I'm going to lose the Giro. The margin was too small and I soon felt that I could not follow in the stage to Sestriere. After Milan, I dreamed about the Giro for another two weeks. What if we had played it differently? "
"It was a shame that the team management didn't really have confidence. I don't know if they were really happy when I was on podium. We finished second and third in a grand tour, but I didn't really feel that everyone was so happy in the team. Kind of a strange idea. I want to call Iwan (Spekenbrink) about it. Discuss that final year. "