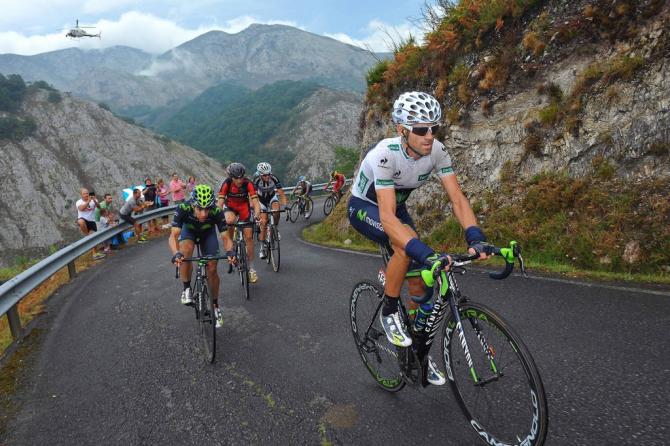 This year's Vuelta a Espana is set to be decided in the mountains with nine summit finishes included in the route unveiled on Saturday.
The race will start with an 8km individual time-trial in the southern port city of Malaga on August 25 and will spend eight days in the south of Spain before journeying through the mountainous terrain close to the Atlantic coast and heading into the Pyrenees for a decisive final stretch.
It will conclude in the capital Madrid on Sunday, September 16.
"We want the mountains to be key in deciding the Vuelta," said Vuelta director Javier Guillen.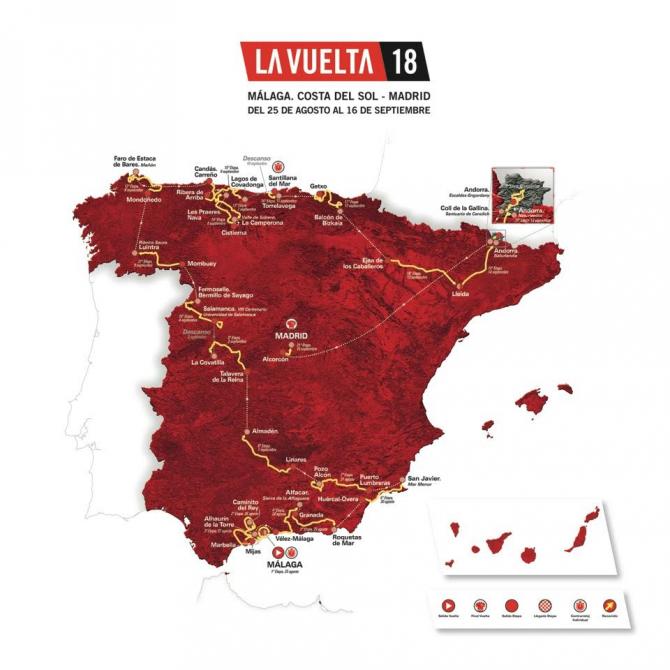 After the Caminito del Rey summit finish on day two, the Vuelta will climb to finish at La Alfaguara, La Covatilla, La Camperona, Les Praeres, Lagos de Covadonga, Monte Oiz and Andorra.
Last year's race was won by Chris Froome, as he became just the third rider in history to win the Vuelta a Espana and Tour de France in the same year.
But it was revealed last month that Froome  had given an adverse doping test during the Vuelta.
He was found to have twice the permissible amount of asthma medication Salbutamol in his system and could yet be stripped of his title.
If the 32-year-old does take part, he will see summit finishes at Les Praeres in Asturias and at Balcon de Bizkaia in the Basque Country for the first time in the history of the race.
2018 Vuelta a España route:
Stage 1, Saturday August 25: Malaga – Malaga (individual time trial), 8km
Stage 2, Sunday August 26: Marbella – Caminito del Rey, 163.9 km
Stage 3, Monday August 27: Mijas – Alhaurin de la Torre, 182.5 km
Stage 4, Tuesday August 28: Vélez-Malaga – Alfacar, 162km
Stage 5, Wednesday August 29: Granada – Roquetas del Mar, 188 km
Stage 6, Thursday August 30: Huercal-Overa – Saint Javier, 153km
Stage 7, Friday August 31: Puerto Lumbreras – Pozo Alcon, 182km
Stage 8, Saturday September 1: Linares – Almaden, 195.5km
Stage 9, Sunday September 2: Talavera de la Reina – La Covatilla, 195km
Rest day, Monday September 3
Stage 10, Tuesday September 4: Salamanca – Fermoselle, 172.5km
Stage 11, Wednesday September 5: Monbuey – Luintra, 208.8km
Stage 12, Thursday September 6: Mondoñedo – Estaca de Bares, 177.5km
Stage 13, Friday September 7: Candas – La Camperona, 175.5km
Stage 14, Saturday September 8: Cistierna – Les Praeres, 167km
Stage 15, Sunday September 9: Ribera de Arriba – Lagos de Covadonga, 185.5km
Rest day, Monday September 10
Stage 16, Tuesday September 11: Santillana del Mar – Torrelavega (individual time trial), 32.7km
Stage 17, Wednesday September 12: Getxo – Monte Oiz/Balcon de Bizkaia, 166.4km
Stage 18, Thursday September 13: Ejea de los Caballeros – Lleida, 180.5km
Stage 19, Friday September 14: Lleida – Naturlandia (Andorra), 157km
Stage 20, Saturday September 15: Escaldes-Engordany – Coll de la Gallina (Andorra), 105.8km
Stage 21, Sunday September 16: Alcorcón – Madrid, 112.3 km