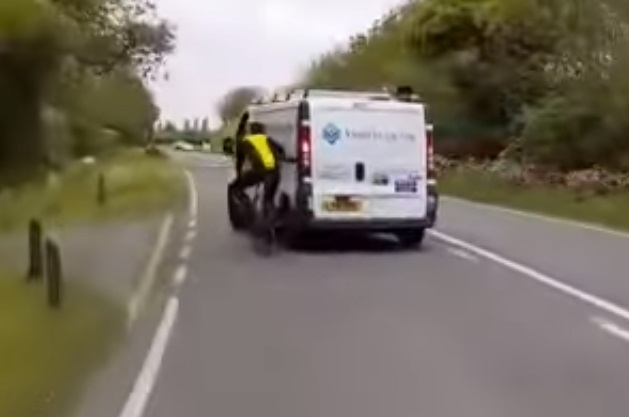 The Vidette dangerous van driver has been fired after the footage showing him forcing a cyclist off the road has gone viral.
Insane driver! ?? pic.twitter.com/5NnZvHAc1H

— Cycling Today (@CyclingTodayEn) 5 mai 2017
The Director of Vidette has posted an apology on the company's Facebook page in relation to the incident:
I am writing this letter to express my sincere apologies to the cyclist that was very unfortunate to experience a very irresponsible and dangerous move by an engineer driving one of Vidette's vehicles on Sunday 30th April.
My wife and I are both very keen cyclist ourselves so fully appreciate the impact/trauma that a near miss like this would have on anyone in this situation.
I have now interviewed the driver and can honestly say the he is so full of remorse and fully understands how lucky he and the cyclist have been on this occasion and swears to never let himself get into a position like this again.
He stated that he was having personal problems with his family and his mind "was all over the place" and that he is so sorry.
I do believe him and could tell his apology was genuine, however we cannot condone nor let this behaviour have any place within our company.
We have decided to make an example here and to promote driver awareness going forward. He has been dismissed from immediate effect!
This experience has made me realise that I can do something to help reduce this sort of behaviour on our roads so have decided to introduce a driver awareness course into our already busy H&S training matrix for all our employees.
The AA seem to have a nice one called Driver Alertness Education, I have actioned this to be investigated & organised immediately.
Adding to the above, I have had full backing & agreement in these decisions from all of our management team.
I hope this letter will also be of comfort to the other road users & cyclists who have written their concerns.
I was on holiday until early this morning which made an immediate answer nigh on impossible.
I understand that the vast majority of mails and social media comments are from concerned genuine people however, we received some really hurtful mails wishing all sorts of medical curses on our office staff which swayed me into taking down the access from our web site & social media pages.
Sincere apologies,
Ian Frazer
Managing Director
Vidette UK