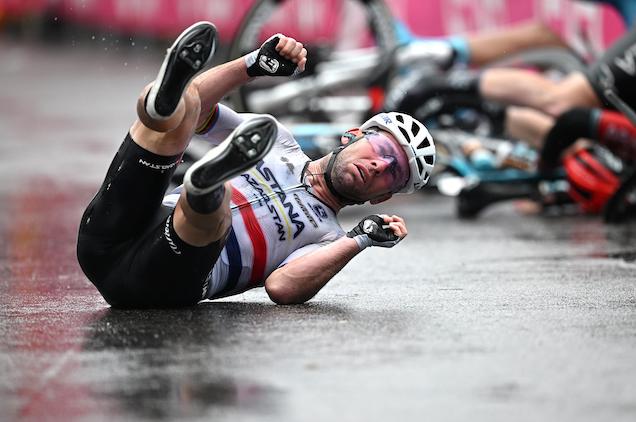 Alberto Dainese has lost his fourth place in the fifth stage of the Giro d'Italia after he has been penalized by the UCI jury for a dangerous maneuver in the sprint in which Mark Cavendish eventually crashed.
Dainese was on the right side of the road but had more speed than Cavendish and wanted to move to the left. Dainese saw a space and rode into it, cutting Cavendish off. The British champion lost his balance as a result, collided with Filippo Fiorelli and then fell.
O salseiro de Cavendish no fim da etapa 05. #giro pic.twitter.com/3qBw0UfC3E

— O País do Ciclismo (@opaisdociclismo) May 10, 2023
Team DSM announced that Dainese has been declassified. He has thus been dropped to last place in the group he finished in and lost his fourth place.
"We accept the jury's decision and once again hope those who crashed in the finale are okay," said Team DSM.
Mark Cavendish has announced in a short video message on social media that Dainese has apologized.
"Only morale is a little bit… I was in perfect position, I kicked for the sprint, my back wheel was on the white line, and when I kicked it slides the wheel," Cavendish explained.
"The circumstances after that…it's sprinting. Alberto has called me. You know, it's part of sprinting, I just hope everybody else who crashed is OK, I saw some stretchers and that."
"[So] we try again, and congratulations to Kaden Groves, too."