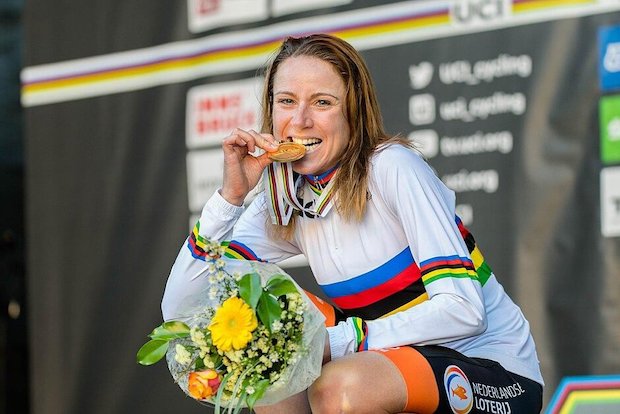 Dutch racer Annemiek van Vleuten hasn't ruled out defending her UCI Road World Championship title next week despite suffering a fractured left wrist last week. The reigning world title holder was injured in a crash during Stage 7 of the Giro Rosa.
Van Vleuten, 37, was leading the race when she suffered her accident just a kilometre from the end of the stage while racing with Mitchelton-Scott in the Italian Women's WorldTour.
The Dutch rider got caught up in the wreckage of a crash just in front of her with about 50 metres to go until she reached the finish line.
She flew back home to the Netherlands to undergo surgery.
At the time, van Vleuten was certain that attempting to retain her world title would be entirely out of the question. However, just five days after the in-race mishap, her perspective on the worlds has changed completely.
After being fitted with a special wrist brace, Van Vleuten was given the green light to try riding outside on Tuesday.
"It went well, I am hopeful," van Vleuten told NOS.nl. "According to the doctors it is safe to cycle outside with a brace. I have no pain on the bike. The brace provides extra strength. I don't think it is necessary, but it will be nice for four hours of racing.
"My doctors think very much in terms of possibilities. I was surprised about that. It's not a complicated break. I look at it day by day and do everything I can to recover optimally. You never know."
The women's world championship road race is on Saturday. Van Vleuten is going to wait until Friday to make her final decision on whether to compete.
The top online sports betting sites such as GTBets would view van Vleuten as a favorite to win the worlds again, so her presence in the race could lead to some interesting odds.
Course Suits Her
Last year's world championship race in Yorkshire, England was held on a difficult course that was hilly and technical and featured a 100-kilometre solo attack. The upcoming worlds in Imola, Italy will be contested over a very similar course that should be well-suited to van Vleuten's style of riding.
The race was moved to Italy from Aigle, Switzerland due to COVID-19 restrictions.
She's also a two-time world champion in the time trial. Last year, van Vleuten placed third behind American Chloé Dygert and Dutchwoman Anna van der Breggen in the final race at the worlds in Great Britain.
A History Of Mishaps
Over the course of her career, van Vleuten has dealt with her fair share of major injuries.
Her worst accident came at the worst possible time. At the 2016 Rio de Janeiro Summer Olympic Games, van Vleuten was leading the road race, apparently heading toward a gold-medal victory.
On a tricky descent, she appeared to lock up her brakes and was thrown off her bike, flying head-first into a roadside ditch. Van Vleuten suffered a concussion and three fractured vertebrae in the crash.
There were fears that her career might be over. Just two months later, though, van Vleuten finished fifth in the World Championship time trial, ending up only 25 seconds off the winning pace.
"When I look back now, I think about what happened to me," she told Cyclingnews. ""I now realize . . . I've been through so much. It's all now falling off me."
Only hours prior to her 2018 victory in the World Championship time trial, van Vleuten fainted while taking a doping test. Doctors were unable to locate a vein in her arm and the overuse of the needle caused van Vleuten to faint.
"That was not a great start to the day," van Vleuten recalled. "Fortunately the check was at 8 a.m. and I still had enough time to clear my head."
In the 2018 World Championship road race, van Vleuten got tangled up with Britain's Dani King and crashed with about 95 kilometres left in the race. She got back on her bike, caught up to the lead pack and finished seventh.
After the race, she was taken to hospital. It was discovered that she'd fractured her tibial plateau. The Dutch starunderwent surgery to fix the problem and missed a month. But she came back in 2019 to win the road race event at the worlds.