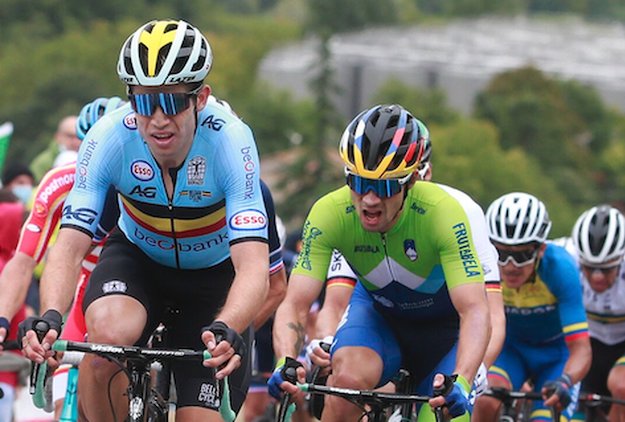 Belgian media and some fans have criticized the lack of collaboration from Primoz Roglic in the closing kilometers of a fierce chase that came up short against eventual winner Julian Alaphilippe.
After Wout van Aert spent three weeks helping Roglic at the Tour de France giving up his chances to win the green jersey, many expected the Slovenian to return the favor during the end of the action Sunday at the Road World Championships.
"If he brought [Alaphilippe] down to five seconds, Wout would have won," TV commentator Eddy Planckaert said. "If I were van Aert, I wouldn't be leading Roglič around anymore."
"I certainly think Primoz wanted my help, but he was just as devastated as the rest of the group," van Aert told Sporza. "Primoz rode at the limit. He couldn't be better. After seven hours of racing, it is not always a question of wanting, but also of being able to do it."
"I would rather have Wout become champion than Alaphilippe", Roglic said. "But I was at my limit. I couldn't even sprint anymore. Those four other riders were all stronger than me. I had to close a hole after every corner. I gave everything I had."
"I think it's a shame that there is so much commotion about this. Primoz really did his best. I saw that myself in the front row and I can therefore judge it best.", added Van Aert.