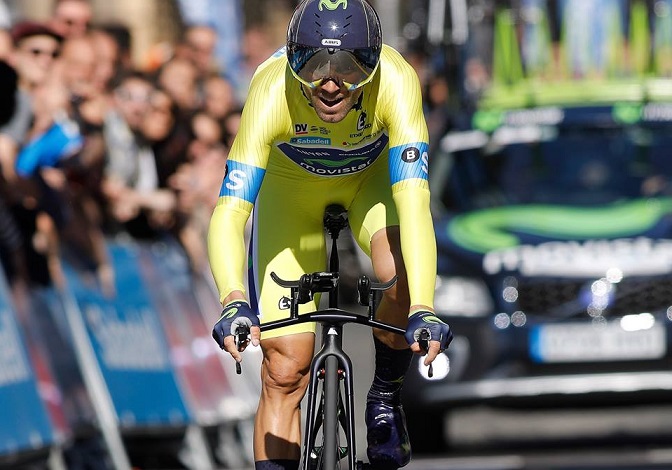 Alejandro Valverde was finally able to cross out the Vuelta al País Vasco from his list of big victories still missing in his palmarès, fifteen long years after debuting in the race as a neo-pro in 2002.
"Man, it was hard! I really wanted to win this Itzulia. I have been on the verge of success so many years, always came close without a win – fortunately, it seems like I'm on a good streak this season, and claiming overall honours at last makes for a very special success", said Valverde. "Having no pressure before this race was possible thanks to that excellent start to 2017. It was a different País Vasco from previous editions, with lighter routes in the beginning – always demanding but not to much – and, at the end and as in every edition, it came down to the final TT. That's where we had to give everything for the win.
"Obviously, it was a very demanding course today. Plus, it was stressful, with Ion, Alberto and myself really close to each other. I must say it was an important advantage to start as last, as I had all time splits from my rivals. I was a bit conservative into the first flat stretch after the Karabieta descent, because my team-mates departing earlier reminded me to keep some energy for the final 7km, after the Soraluze slopes, where the real difference was made. I just went on full steam from there and – well, the strategy was right
"I'm even more surprised than anyone about how things are going for me this season. Every single year, at this point of the season, I yell it's my best start ever. But this time, you can't have any doubts: it's the best one. With everything that I've won so far, I'm heading into the classics without any stress… maybe if I win one in the Ardennes, I can skip the rest of the season! (Laughs) Seriously: I'm in very good condition and we must try and take advantage from it at the Ardennes. After that, we'll have some rest and start preparing for the Tour.
"I want to thank the Basque fans for their support in such a spectacular, tight race. Also, my team-mates, for their continuous support, and my family, my kids and everyone who gets happy about my success – this is for you!"