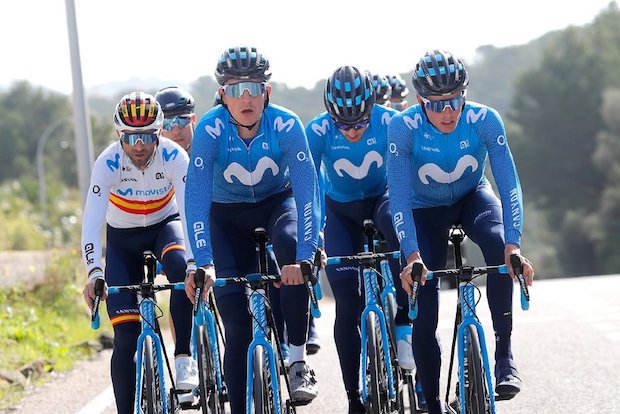 Movistar has announced that Alejandro Valverde and Enric Mas will lead the roster for the Tour de France and the Vuelta a Espana, while Marc Soler will be the sole leader of the Giro d'Italia.
The original plans of the Spanish formation was to take three leaders to the Tour de France but the Covid-19 pandemic has changed the plans.
Valverde and Mas will lead the formation at the Tour and the Vuelta. The team also decided that Soler should be the sole leader at the Giro.
"These will be two Grand Tours very different for everyone – the Tour de France, with all circumstances surrounding it, will be a different one, and we'll try to take advantage," said Valverde.
"The Vuelta will be entirely held in the north of Spain, probably with cold and bad weather, yet it will be the same for everybody. It's a special year, with big efforts in such a short span, and I like that challenge."
Mas is happy about sharing the experience with Valverde. "I'm excited about this dual challenge, Tour and Vuelta, and even more thrilled to have Alejandro alongside for the two," he said. "He's always there, he's one to follow, and I'll learn a lot from him.
"These have been rough months for everybody, yet thanks to Telefónica's support, we've been able to go to bed everyday calm about our jobs, our chances, and now think about our return with full confidence."