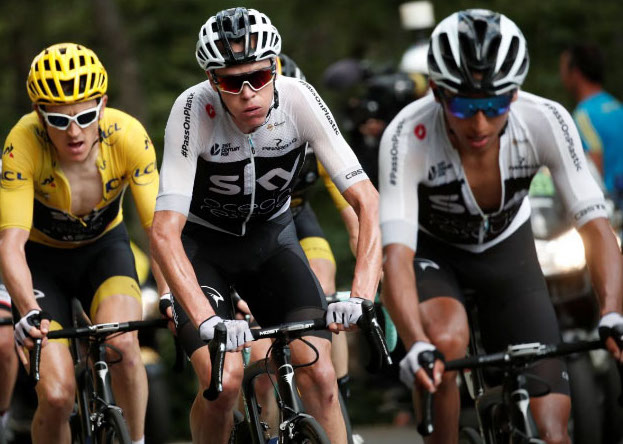 Chris Froome will likely ride the Tour de France with Team Ineos despite failing to agree a contract extension for next season, according to Dylan van Baarle.
Froome has been linked with a move to the Israel Start-Up Nation, with some reports suggesting that he could make the move before the start of the race on 29 August to avoid a leadership battle with Egan Bernal, and 2018's winner, Geraint Thomas.
"It is a situation we have never been in before," Team Ineos sports director Servais Knaven told NOS.
23-year-old Bernal hopes to win the Tour de France for a second consecutive time this year, but may have to share the lead with Thomas, winner of the race two years ago, and four-time winner Froome. "It is quite a puzzle," said Knaven.
"We have always done well with two leaders, but three leaders is a different story. The question is whether we will start with three leaders. We may start with two leaders and a protected rider. Let's first look at the level of the riders. That is currently very difficult to estimate."
For several weeks there has been a rumour that Froome wants to leave Team Ineos.
"Of course that's what it's all about, because it's in the news all time. But as far as I know, he just stays and wants to ride the Tour with Ineos. In the end, I don't know what's going on behind the scenes with him either, but that's what he says to us," said van Baarle. He calls a possible departure from the leader strange. "And I don't think it's going to happen and he's not going to go early."