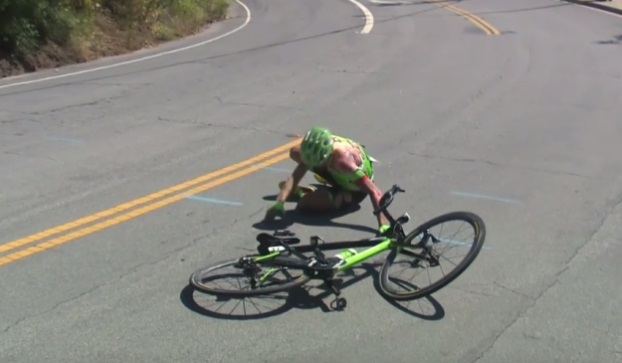 Toms Skujins was involved in a high profile crash at Amgen Tour of California last month that left him with a broken collarbone and a concussion.
He missed out on the final stages of California and sat out Tour de Suisse as he recovered in his US base of Boulder, Colorado. And now he's back and as hungry and motivated as ever.
Skujins says that he isn't as prepared or as focused on nationals as he has been in the past. He has eyes on a steady string of results at Tour of Poland, a month out yet, so he's building through nationals, patiently progressing towards a target that offers WorldTour points and WorldTour glory.
"It's definitely the biggest crash I've had. It was my first broken collarbone and my first concussion. It was also the most visible crash I've ever had", said Skujins.
"I was still with the team for half of the first week because I couldn't fly anywhere because of the concussion. I had surgery two days post-crash in California. One of the race doctors came in the day after the crash. He was working in a clinic near our hotel and was able to do the surgery. He did an amazing job.
"The night after the surgery was really painful. Other than that, it was improvements every day – especially the head. It got better quickly after the first week. At the tail-end of the second week, I was able to ride again. I did a cognitive test and was given the clearance to ride the trainer."
"It's a series of exercises done online. It probably takes around 30-40 minutes. It's several tests that focus on memory, concentration, the ability to complete tasks – like pressing a key when the light is green or when the letters are a certain color. It's six or eight tests that you do in those 30-40 minutes, and it generates a score that you can compare to a baseline you've already established. I did them last year when not concussed, without any head trauma, so that if I ended up in this exact situation, I'd have my own individual baseline that I'd need to return to before I can ride.
"I've been riding some longer, steadier rides. I was at altitude in Boulder, and my big focus is Tour of Poland more than Nationals. I want to be ready for that, for the second phase of the year. Knowing that, I didn't do a lot of intensity. The body feels good, and it's race ready but it's not RACE race ready if you know what I mean".