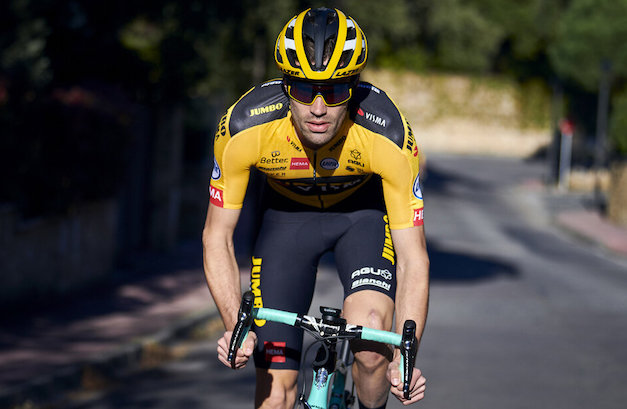 More and more, it looks like that the cycling season can restart in August. This means the cyclists have a purpose and goal to work towards again. So does Tom Dumoulin.
He is now in full preparation for the Tour de France, which will start on August 29 in Nice if all goes as planned.
"At the moment it looks like the season can restart in August", Dumoulin said. "I was a bit skeptical in March and April, but now things are looking better every day. In concrete terms, this means that we will fully focus on the races from now on. In my case the Tour de France. Within the team we have set the 1st of June as the starting date to fully focus on our training and the necessary preparations that come along with it."
Dumoulin, who won the Giro d'Italia in 2017 and finished second in the Tour de France in 2018, is eagerly looking forward to pin on a number again after a year without racing.
"During my training I feel like the Tom Dumoulin from two years ago. But I still regularly wonder how things will all be when I am at a start of a race again. It is slightly different than just doing my training. So then I sometimes doubt. I have not yet been able to prove and show myself for my new team, Team Jumbo-Visma. I really want to shine in the colours of my current team. It was for a reason I joined this team. I am also proud to be able to ride for this team. Too bad I have not been able to show it yet. Although I am fully aware that these doubts are not necessary. I know I can do it and that I am capable of doing it, but there is not much that we can do about the current situation."
Nevertheless, he is convinced that he can be at the start of the Tour de France in a good condition.
"I am now in full preparation for the Tour de France. We are going to prepare as well as possible. The Tour is the biggest of the biggest and I would love to win it once. So I hope it will work out. And I think that with this team we are certainly able to achieve that. We go to the Tour with three leaders: Primoz Roglic, Steven Kruijswijk and myself. All three of us get the chance to prove ourselves. But eventually we will ride for the one who turns out to be the strongest. If it turns out that I am stronger than Primoz and Steven, then I have a world class team to support me to try to win the Tour. And the other way around of course. At the moment, it is difficult to say who of us three is the strongest. Based on the past months I would say Primoz, but we all have not been able to prove ourselves this year. So it is also a bit of guessing about how everyone is doing at the moment."
Dumoulin is not very concerned about that. "I chose this team because of the professionalism and philosophy of 'winning together'. I liked that. Until this year, I didn't know what to expect. I already had a number of conversations and I had a very good idea about what to expect, but you always have to find out in real life how it really is within a team. But this team has positively surprised me in every way."
"As a top athlete, I am trying to become the best cyclist in the world", Dumoulin continued. "I will try to win the Tour de France and I will give everything I have to achieve that. But there are a lot of people around me and around the team who together ensure that we can win the Tour. That only works if all those people have their noses in the same direction and also have the same thoughts as the rest of the team. My trainer should actually run with the idea of being a top athlete too. My thoughts. That he wants to become the best trainer in the world. And luckily he is. And that actually applies to everyone within our team. That they wake up every day thinking they want to be the best. That they get the best out of themselves. And all to achieve the same goal: to win the Tour. And they apply that philosophy at Team Jumbo-Visma. I was really surprised and touched by that. I also have confidence in the team that we will start the Tour in the best possible way without the normal preparation we are normally having."
In preparation for the Tour, Dumoulin will do a few stage races. "As it stands, I will start in a number of stage races in preparation of the Tour de France. All in France. After that we have to see what I'll be doing. I will probably also start in some of the classics and the world championship. I hope to shine there as well."