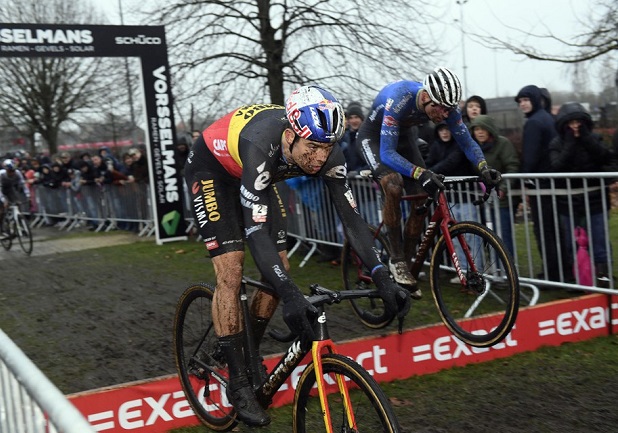 Cyclocross legend Sven Nys has expressed his concern about the appearance fees that Wout van Aert and Mathieu van der Poel are earning in cyclocross, saying other riders are going unpaid, with an unsustainable situation arising.
According to Het Nieuwsblad, Van der Poel is said to receive a fee of €15,000 for a major race, while Van Aert can be paid up to €20,000. World champion Tom Pidcock, can secure an appearance fee of €8,000 from race organisers.
Zdenek Stybar, a three-time world cyclocross champion, told Het Nieuwsblad that he raced the recent Azencross race, won by Van Aert, for free after the organisers told him that there was no money left.
"I'm at the start here for free", the Czech rideer said. "Apparently there was no more budget. But I do this for the love of the sport and because it is good preparation for the road season."
One rider anonymously told the Belgian paper that there would be only ten riders left competing on the cyclocross circuit if the distribution of appearance money continued to be weighted so heavily towards a select few of the sport's biggest names.
"This situation is not healthy," Sven Nys added. "I know that many guys have been at the start for free in recent weeks and will continue to be.
"We urgently need to put our heads together to brainstorm where we want to go with our sport. Because I'm afraid it can't go on like this."
Tomas Van Den Spiegel, race organiser of Flanders Classics, has warned against overestimating the Van der Poel and Van Aert effect on ticket sales and the popularity of the sport.
"Their presence makes a difference, but you shouldn't overestimate it either," Van Den Spiegel said. "We notice a 10 to 20 percent difference in ticket sales, no more than that. People love this sport anyway."