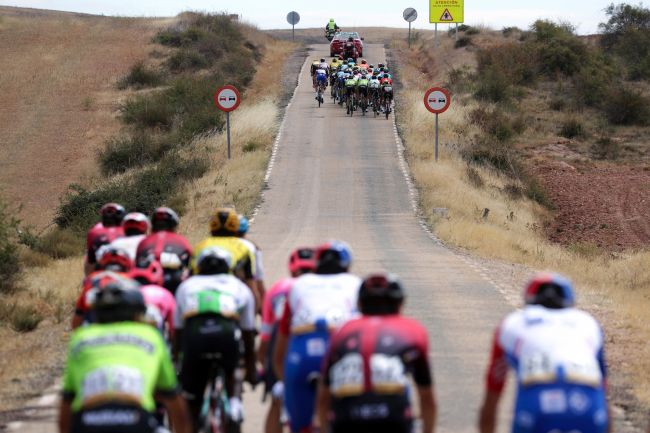 With an average speed of 50.63kph, today's stage 17 of the Vuelta is thought to have been ridden faster than any 200km+ road stage or one-day race in the history of professional cycling.
The peloton fractured right from the gun in a stage that was supposed to be easy. A big group pulled clear in the opening 5km, including Nairo Quintana (Movistar) and nearly the entire Deceuninck-Quick-Step team.
"At some point we were doing 75km/h on the flat," stage winner Philippe Gilbert said. "I had a 54×11 and I was spinning all the time. In 17 years as a pro, I don't think I've ever done that. It was really, really crazy."
Today's stage was quicker than the fastest road stage ever at the Tour de France, when Mario Cipollini won a 194.5km stage from Laval to Blois at an average speed of 50.4kph.
"It's not the stage that most people would point to say it's going to be the hardest stage of the Vuelta, but I think it was," said Ben King. "In the end it was a very hard stage."
Uploading this ride, EF Education First's Lawson Craddock called the activity 'Vuelta a Espana Stage 17 – Today is a stage that will live in infamy'.
The American rider averaged 47.9km/h over 228.62km, his ride including the neutral zone and over 2,500m of climbing. He achieved all of this with an average heart rate of 150bpm and a max of 184, with power at 288w (average) and 1,049w (max).
"This Vuelta is just insane," Craddock said. "These days on paper that should be easy, recovery, but they're anything but that. It was absolutely ruthless."
"Everyone was aware it was a windy day. As the car went [after the neutral start], standard for a race these days, everyone sprinted straight after the car. We went straight into the gutter," commented Owain Doull. "I was thinking, how long can this go on for? Well, it was all day!"