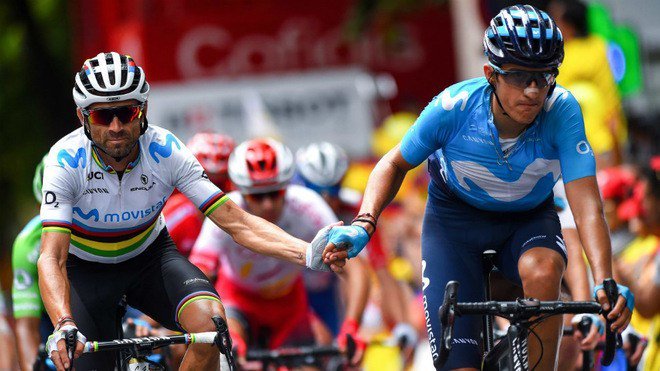 The 17th stage of the Vuelta – the longest in this year's race – was marked by strong crosswinds, which led to a frenetic pace of racing.
The wind saw the sizeable breakaway gain a huge advantage over the main peloton, including Alejandro Valverde and Primoz Roglic, which they were unable to claw back.
Roglic, who has worn the overall leader's red jersey since the 10th stage, saw Nairo Quintana reduce his lead to 2 minutes 24 seconds as Valverde dropped from second to third overall.
"We have to be happy," said Valverde. "It was a day prone to echelons and thanks to them we have Nairo back in the fight for the race title. Tactically, we have two strong cards. The cut was made at the start and with Nairo in front we rode calmly. I couldn't make it because the cut was made almost by accident: the echelon was formed by people that were going on the left side and was from one moment to the next, it didn't give me time to react.
"Jumbo then tried to close the difference but it couldn't and that gave us a bigger advantage. In one of the climbs, we accelerated to leave without men the team that was pulling, but Astana was very good and it also had people in front. Astana saved the Red Jersey for Roglic, but here everybody has to fight for its own. A lot of people suffered from tiredness today and that could be noticeable tomorrow, particularly on those who have been pulling for the entire day, I didn't pull at all, I rode behind the entire time."