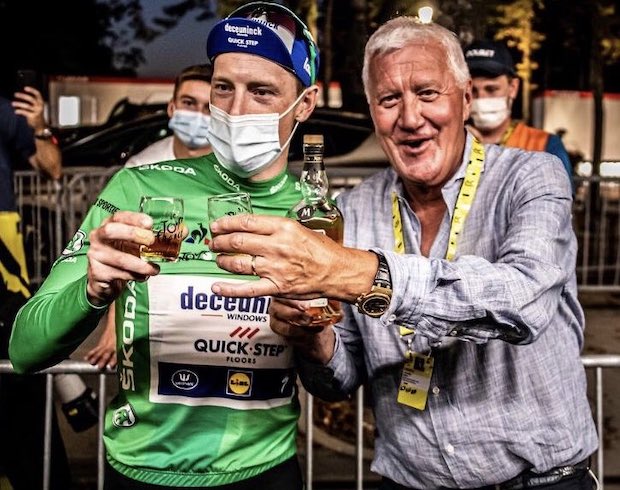 Now that Sam Bennett seems to have recovered in time from a knee injury, Mark Cavendish is definitely not going to the Tour de France, Patrick Lefevere confirmed today.
Bennett, last year winner of two stages and the green jersey, had to miss the Belgium Tour after a minor incident during a training ride. In consultation with the medical team, it was decided to skip the five-day round and take a rest with a perspective to the Tour de France. Bennett has now been declared fit and so all lights are green.
"The deal was that Bennett should go and if he's ok, like he's said he's ok, then we wouldn't go with two sprinters. From what I understand from his DS, his knee is better and today he's doing another long training session but normally he should be okay," Patrick Lefevere says.
"Sam isn't the strongest in his own head. If everything goes well then he becomes stronger and stronger, as we saw in the Tour last year, but if he has doubts and we bring someone like the second sprinter, and he has Mark Cavendish on his wheel, he becomes nervous about this. Very nervous".
"We want to be counting on Sam 200 per cent, honest and fair, even though he leaves the team. There are some teams that if you don't re-sign they won't bring you to the Tour but I never get involved in that sort of case."
"There are no races for him [Mark Cavendish] at the moment. During the Tour de France, he has no other races. The Tour of Austria has been cancelled, so the first races are at the end of July and the beginning of August. We have to look and have a small meeting with the team but when I spoke to Mark last we talked about the fact that there are no flat races. If you look at the Dauphiné or the Tour de Suisse there are no sprints anymore – a sprint with 30 riders isn't a bunch sprint. It's a pity for guys like Mark and Fabio.
"The Vuelta, though, is in Fabio's programme. He does the nationals and then he trains with the team and then it's the Vuelta. Honestly, there's not been a discussion yet about Mark and the Vuelta. He went to the Tour of Belgium and it was fantastic that he won but we've not talked about the Vuelta."