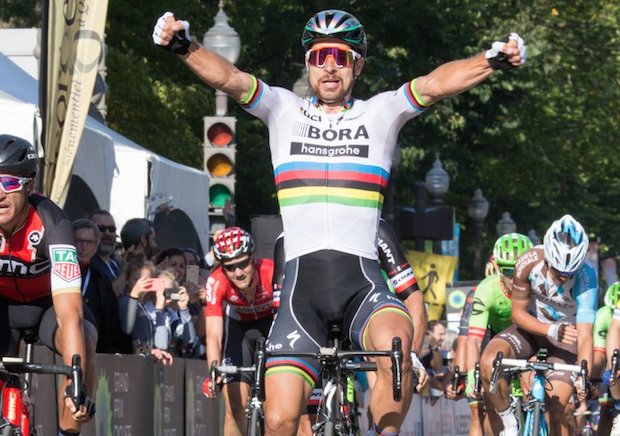 Peter Sagan will stay with the Bora – hansgrohe team through 2021 and the team is looking forward to keep working with him to achieve further success.
"Thanks to main sponsors Bora and hansgrohe, both of which already extended their contracts early this season, we are in the fortunate position of being able to plan on a long-term scale," said Bora-hansgrohe team manager Ralph Denk. "Peter is the star of cycling. He is not only one of the most successful riders, but also a real brand ambassador who fascinates even those outside our sport. It's quite understandable that we have re-signed him early. It is a pleasure to work with him and we all get along well.
"This is just our second WorldTour season, yet we have already had some remarkable successes together. His victory at Paris-Roubaix was of course a true highlight. But we are still aiming to progress further. We continue to foster ambitious goals, and with Peter we can count on a rider who is gifted with incredibly rare talent. Yet in his slipstream there is also ample room for our young guns to develop, with all the attention, public interest and media being focused upon him. For riders like Patrick Konrad, Pascal Ackermann and Emanuel Buchmann, this setup has worked very well. I think we are on track heading into the future. We are still growing as a team and Peter Sagan will remain a foundational aspect of this process," Denk concluded.
"I am delighted to commit myself to Bora-hansgrohe until the end of 2021," Sagan said. "It was a straightforward decision for me to take, even if I still have one more season to go under my current contract. I've enjoyed two remarkable years with this team and I wouldn't want to move from somewhere that has given me so much trust, support and belief in me, even in the most difficult moments. I feel confident the coming years with BORA-hansgrohe will be as fulfilling as the first two."
Bora-hansgrohe also announced contract extensions for several other riders. Erik Baška, Maciej Bodnar, Daniel Oss, Marcus Burghardt, and Peter Sagan's brother Juraj Sagan have all joined him in re-upping through the end of 2021.