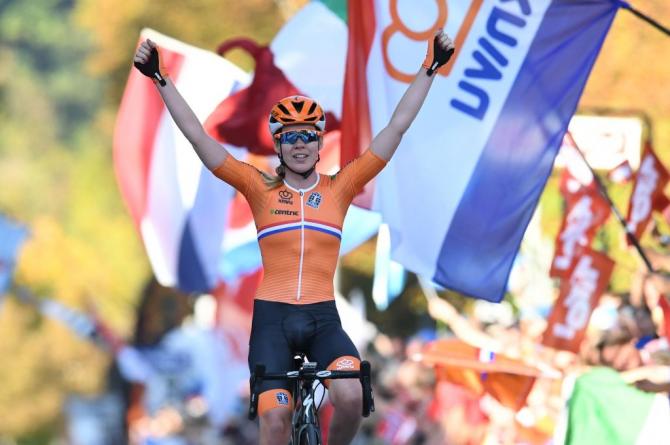 Anna van der Breggen used a majestic solo ride to give the Netherlands a sweep of the women's elite world road cycling titles for a second straight year on Saturday.
When the highly favored Dutch team had no one left in the leading group for the final 50 kilometers of the road race, the Olympic champion stepped up to the challenge.
Van der Breggen jumped out of the peloton and quickly overtook the five riders in front. Amanda Spratt briefly followed, but the Australian rider had to let go when the Dutchwoman accelerated on one of the steep climbs of the 156-kilometer race from Kufstein to Innsbruck in the Austrian Alps.
Van der Breggen continued the last 40 kilometers on an unmatched pace to land her first world title, winning the race by the largest margin in nearly three decades.
"I didn't know the time. I didn't know anything. So I kept going until the finish line. Only on the finish line I believed it was possible. It's amazing," she said. "I was a bit doubting if it was too early or not. But I took this opportunity and I had to go."
Van der Breggen led Spratt by 3 minutes, 42 seconds, the biggest winning margin in the event since French standout Jeannie Longo won the 1989 title by more than four minutes.
Italian rider Tatiana Guderzo, the 2009 world champion, was 5:26 behind and took bronze.
Van der Breggen became the fifth female rider to combine the Olympic and world titles in the road race, after Longo, Britain's Nicole Cooke and fellow Dutch riders Leontien van Moorsel and Marianne Vos completed the feat.
Van der Breggen's win came four days after Dutch teammate Annemiek van Vleuten beat her to the time trial title. The Netherlands also won both women's titles at the worlds in Bergen, Norway, last year, with Chantal Blaak and Van Vleuten taking the gold medals.
"The world championships are always (a goal of mine), and I know it is so difficult to win it so I am really happy with this title," said Van der Breggen, who earned her first world title after four silvers in individual events, and two silvers and a bronze in team time trials.
Road World Championships Innsbruck 2018 – Women's Road Race results:
| | | |
| --- | --- | --- |
| 1 | Anna van der Breggen (Netherlands) | 4:11:04 |
| 2 | Amanda Spratt (Australia) | +03'42" |
| 3 | Tatiana Guderzo (Italy) | +05'26" |
| 4 | Emilia Fahlin (Sweden) | +06'13" |
| 5 | Malgorzata Jasinska (Poland) | ,, |
| 6 | Karol-Ann Canuel (Canada) | +06'17" |
| 7 | Annemiek van Vleuten (Netherlands) | +07'05" |
| 8 | Amy Pieters (Netherlands) | ,, |
| 9 | Lucinda Brand (Netherlands) | +07'17" |
| 10 | Ruth Winder (United States Of America) | ,, |