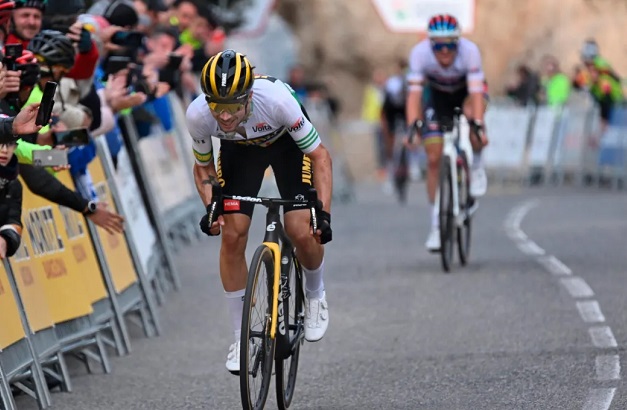 Primoz Roglic extended his lead in the Volta a Catalunya on Friday by dropping Remco Evenepoel on the upper slopes of the final climb of the day.
Roglic lost out to Evenepoel at the Vuelta last season and the pair are using this race as a warm up for their big showdown at the Giro d'Italia.
One of Evenepoel's main strengths is acceleration sustained over a long stretch that few in cycling can live with, but on Friday, Roglic won with his own trademark, a short, late acceleration near the finish line.
With sections of this slope at 15 percent, when the Slovenian went for the line the young Belgian was unable to follow and lost 6sec plus the four seconds in bonuses and trails by ten seconds overall.
Evenepoel had tried several times on the 8km climb to gently pull away, but Roglic always responded and bided his time.
"I really had to hold on at times," he said. "So I'm totally happy with that win."
The UAE Emirates pair Joao Almeida and Marc Soler were 12 and 25sec adrift.
There are two stages remaining, with Saturday's run largely flat meaning the race will go down to the final stage in downtown Barcelona.
🔄Reviu l'últim quilòmetre de l'etapa 5⃣ de la #VoltaCatalunya102 amb la gran victòria de @rogla per davant de @EvenepoelRemco!

🔄Relive the last K of stage 5⃣ of la Volta with the superb victory of @rogla (@JumboVismaRoad) against @EvenepoelRemco (@soudalquickstep)! pic.twitter.com/p6btjWB4vi

— Volta a Catalunya (@VoltaCatalunya) March 24, 2023