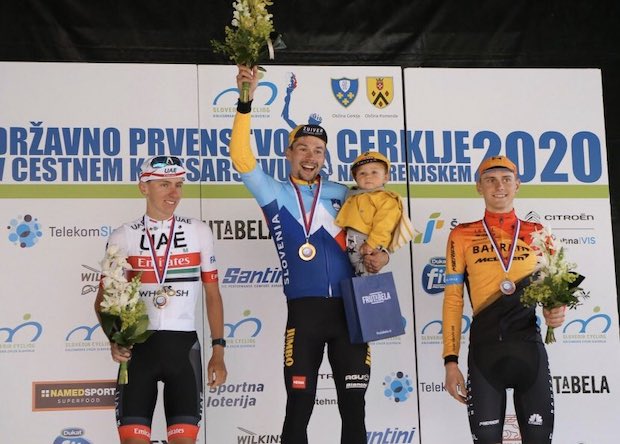 Primoz Roglic beat Tadej Pogacar to become the new Slovenian national road race champion as racing returned to the roads of Slovenia.
Although Slovenia has been the first country in Europe that declared over the Covid-19 pandemic, public gatherings still have to be up to 200 people and social distancing is recommended. But looking at the images, things seemed to be at the start line and the roadside just like they were before the coronavirus crisis.
Roglic shed Pogacar on the final 8km climb of Ambrož pod Krvavcem. The two have distanced the others on the ascent after catching Jan Tratnik (Bahrain McLaren), the last breakaway member.
Towards the finish line, Roglic looked by far the strongest and in the latter stages dropped Pogacar to win by 10 seconds. Matej Mohoric (Bahrain McLaren) came through for third place.
"It is really wonderful that the situation allows us to finally race again and to do what we do best, racing our bikes," Roglic said after his victory.
"It was a tough race with a very tough final climb. Given the results in the spring, Tadej was the favourite and it was certainly not easy to beat him.
"I had (checked) the climb well in the past few days, so I knew where I had to attack. The fact that I take the victory here in my first race of the season feels very good.
"I am definitely not in top form yet, but I am already looking forward to the upcoming races. I also want to thank the team for making the effort to support me in Slovenia. That means a lot to me."