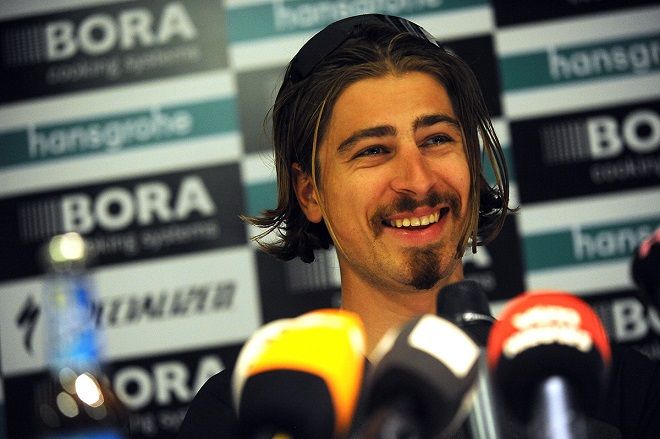 The last five weeks have been building towards Sunday's Ronde van Vlaanderen for both racers and fans for good reason: the second Monument of the season in Belgium's biggest sporting event.
The Tour of Flanders will take the peloton over 260 kilometers that include 18 climbs (called "hellingen" in Flemish). Eleven of these climbs are cobbled. There are also two standalone cobbled sectors mid-race.
Last year's winner, Peter Sagan, says that the Tour of Flanders is not just a race between him and Greg Van Avermaet, and that he has to be careful of everybody if he is to retain his title for the second year.
"Last year is already history. Even though it is a great memory, we need to concentrate on tomorrow. There are a lot of riders who can win, for sure it's not just about Greg and me. The team did a great job so far to support me, I am in good shape, so if we have also a little bit of luck then everything is possible", said Peter Sagan.
"I slept, ate, drank and rode on my bike and that's it. What more can I do? I did it like that last year and two years ago. I think that it is good to get out of the race atmosphere and to relax at home and prepare in your home atmosphere and in the parcours that I have in Monaco. I think it is good. After Flanders, I will stay here until Roubaix."
Ralph Denk, Bora-hansgrohe team manager, added: "We are happy with our results so far. We have already 4 wins, 3 in the UCI WorldTour. I am very happy that Peter is in good shape, but I am also really pleased that some guys of our team from last year progressed. Sam Bennett took a stage in Paris – Nice and also the result from Lukas Pöstlberger in E3 was strong. It's not easy to take the step up to the WorldTour, it's a completely different level, but I think we managed pretty well. I think we are ready for the next 7 days with Flanders and Roubaix. Everyone in the team is focused and everything is possible for us."