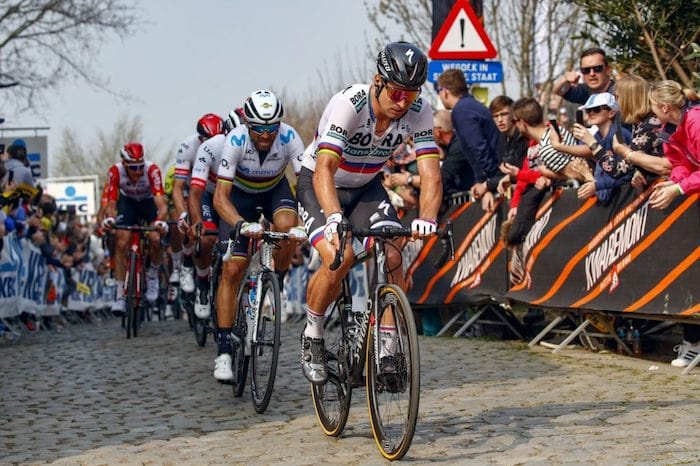 Peter Sagan could only follow the wheels in Tour of Flanders and he was not among the day's main protagonists. At the finish he conceded that he is way below the level he was three years ago.
"I don't think so," Sagan said when asked if he was the same rider as 2016. "The race style was a lot of difference from past years. For sure, I am not like I was three years ago."
"It was a very hard race. I think Bettiol took all the chances, and he surprised everybody how strong he is," Sagan said. "Van der Poel and Greg [van Avermaet] were also very strong today, but in the end, nobody did a big difference."
"We are chasing those results and that good feeling. I saw a good Peter, and he was better at the end of the race than at the middle," said Bora-hansgrohe coach Patxi Vila. "I think it's coming, but still not at the top."
"It was a strange race," said Daniel Oss. "After the Muur, there was a small group and we tried to cover a lot of attacks, and maybe to anticipate the group. The speed was so high and the power was so hard. Everyone was tired and on the limit. I saw a lot of tired faces."
"There was not a lot of cooperation," Sagan said. "There was a little bit of headwind, and everybody just stayed on the wheel. There were a lot of riders, and when somebody attacked, there was someone always to close the gaps."
Sagan now looks ahead to Paris-Roubaix, which he won last year.
"Still my campaign here in Belgium, I am very confident I can get better," Sagan said. "I think it is coming, but we will see. If nothing bad happens, we are looking forward."