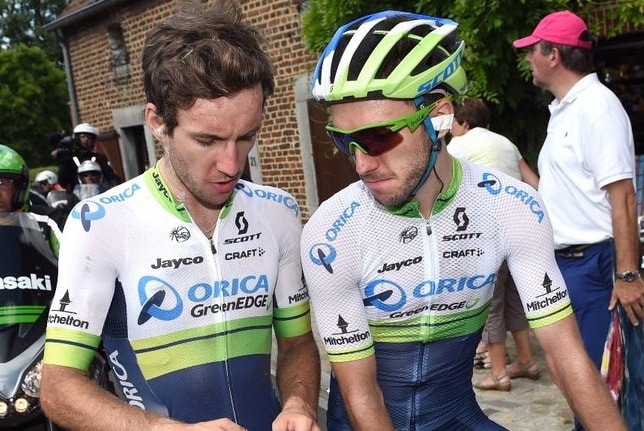 British twins Adam and Simon Yates will be given time to develop into Grand Tour champions, their Orica team sports director Matt White said.
Adam Yates won the young riders' white jersey at the Tour de France last year and Simon is currently in pole position in that category this time around.
But at 24 years of age, Orica and White are wary of putting too much pressure on the talented brothers from Bury, England.
"We knew they were talented but we had lots of talented kids come through here, but the rate that they developed was incredible really," White told AFP.
"One reason they're here and they stay here is we've given them great opportunities from the start.
"We took Simon to the Tour de France as a neo-pro and had to send him home after two weeks because it wasn't the best thing for him.
"It wasn't that popular a decision at the time but for the long term I didn't want to kill him in his first tour.
"Now it's his third tour and he's got those other two years under his belt, and that's why he's handling the pressure of being in the white jersey very well and riding top 10 of the Tour de France as well, because it's not easy."
Yates is seventh overall and three minutes clear of South Africa's Louis Meintjes atop the young rider competition.
He was sixth at last year's Vuelta a Espana, his best Grand Tour showing so far, while Adam was fourth at last year's Tour and ninth at Giro d'Italia.
"They're still kids, they're 24-years-old, they're a long way from being at the best of their abilities," added White.
"We've had them since they turned professional and they've developed really well, and we're going to continue that development."
The Tour may be the biggest goldfish bowl in cycling but White insists the Yates brothers should not be judged only by their results in France.
"We'd like to but at the moment we're not ready to win the Tour de France with the roster we've got, but I think long-term we'd love to win the Tour de France.
"But we'd also like to win the Tour of Italy (Giro) and the Tour of Spain (Vuelta) and maybe they're races that suit our riders' characteristics better."
Orica have sent the Yates brothers to four Grand Tours each and later this year they will both ride the Vuelta, the first time they've taken on two Grand Tours in the same calendar year.
"The season's long and we've got more objectives than one bike race, and we're developing them as well," said White.
"Part of their development this year is doing two Grand Tours: Adam's doing the Giro and the Vuelta, Simon's doing the Tour de Franca and the Vuelta as well, so they'll be in the Vuelta together."
It will be only the second time they ride together in the same Grand Tour after the Grand Boucle two years ago, where Adam finished 50th and Simon 89th.
In the meantime, Orica are simply concentrating on retaining the white jersey rather than looking to push Simon Yates higher up the overall standings, even though he's only two minutes and two seconds off the yellow jersey.
"It's pretty tight between pretty much the top eight or nine guys. The levels are quite similar and there's only three opportunities where time can change, or if guys have a bad day," added White.
"We want to finish as high as possible but we're certainly not here with the goal of finishing on the podium.
"The goal we came here with was to win the white jersey and finish inside the top 10, and so far, so good."