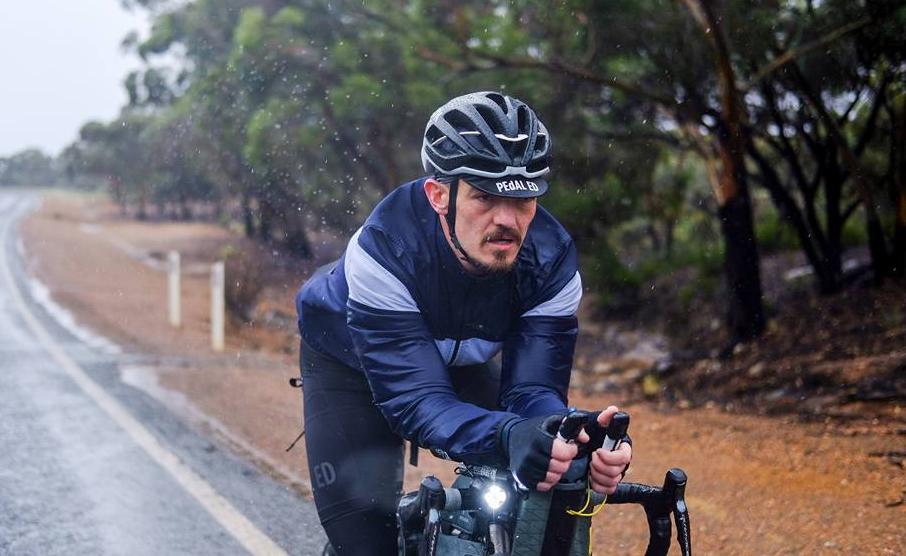 World-renowned long-distance cyclist Mike Hall has been killed after being struck by a car while competing in an epic race from Perth to Sydney, across Australia.
Mike Hall was competing in the inaugural Indian Pacific Wheel Race and was in second place at the time of the collision. Emergency services were notified about 6.30am and the rider died at the scene.
"The Indian Pacific Wheel Race has been cancelled with immediate effect in light of this morning's tragic incident," race organisers said in a statement.
"This is a difficult time for everyone involved, along with their families, and their well-being is our primary concern." The organisers said they would cooperate fully with official investigations and "intend to undertake a detailed investigation of our own".
The 5500-kilometre race started on March 18 in Fremantle and the leading rider, Belgium's Kristof Allegaert, had been expected to reach the finish line at the Sydney Opera House later on Friday.
Mike Hall, 35, is regarded as one of the world's best ultra-endurance racers and holds the record for the fastest completion of the Trans Am and Tour Divide bikepacking races in the U.S. He is the founder of the Transcontinental race in Europe.
When Hall's dot on the official race tracker stopped at 6.52am, he had ridden 5024 kilometres in just over 12 days – averaging more than 400 kilometres a day.
The Indian Pacific Wheel Race was the first time Hall and Allegaert had gone head-to-head. The showdown was being closely followed by fans across the world as the leaders approached Sydney. They had been racing with very little sleep. Hall revealed he was having problems with his vision in a recent video posted from the race route.
"It gets dark and all the glare of the light hitting the signage and road furniture just swirls around and blurs," he said on the race's Facebook page on Thursday.
"I've been thinking that I can't stay awake because I'm just really tired. But it's just the fact I can't see in the dark properly – my eyes are nailed."