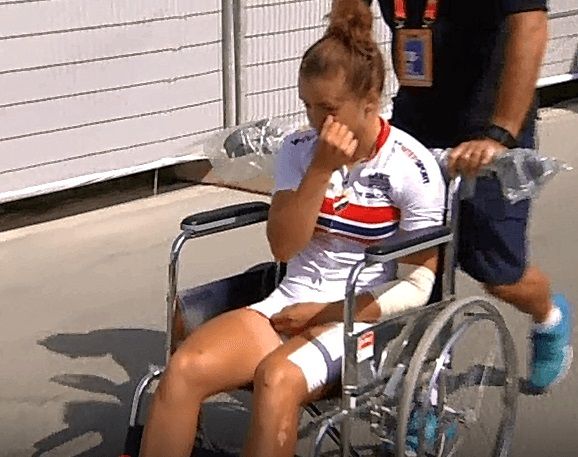 The Norwegian Cycling Federation has disclosed that it believes that one of it's riders, junior Susanne Andersen, was intentionally hit by a police vehicle in Doha, Qatar during the UCI Road World Championships. The federation chose not to immediately report the case — fearing that Andersen would not be allowed to leave the country.
Susanne Andersen had won a bronze medal in the women's junior road race and was riding back to the team hotel when she was hit by a car driven by a uniformed police officer.
She said that she believes it was because of what she was wearing. "We were told that it is not unusual for women with bare legs [to be hassled] because it is considered to be controversial clothing."
Federation sport manager Hans Falk also believes it was an intentional act, though admits he cannot prove it. "I am convinced that it was a deliberate action by the policeman who drove right into Susanne," said Falk. "I can not say for sure, but there were no skid marks, and he showed no empathy. Instead he lit a cigarette and talked on the phone oblivious to the girl who was lying on the ground, screaming.
"We were urged not to report the matter and were told if we did we would not be allowed to leave the country. We thought it was best that Susanne came home."
Andersen fortunately only suffered bruises and scrapes, and would go on to win the bronze medal in the road race.