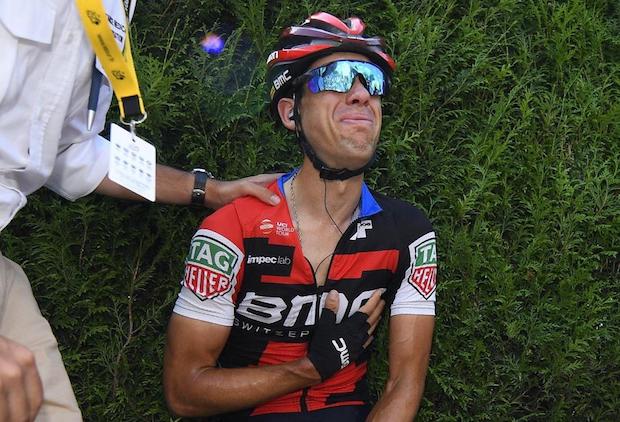 (AP) – Richie Porte said before the Tour de France that his hopes of dethroning Chris Froome rested on not having any more bad luck – such as the fall that knocked him out of last year's race.
Misfortune struck Porte again on Sunday when he was injured in a crash at the start of Stage 9 and couldn't continue in the three-week Grand Tour.
"I was on the ground before I knew it and straight away felt pain in my right shoulder," said Porte, who was diagnosed with a fractured right clavicle. "We had a great first week and I'm so disappointed that I won't be continuing to Paris. I hope to recover as fast as possible and get back to racing."
Much had been made of the day's trek across the much feared cobblestones of Roubaix as the 156.5-kilometer leg approached the Belgian border from its start in Arras.
But unlike Porte's accident in the 2017 Tour that happened on a mountain descent, this tumble took place on an asphalt road before Porte had even reached the first cobbled path.
After being involved in a group pile-up, Porte sat on the road clutching his right upper arm. He couldn't get back on his bike and was sent directly to the hospital in an ambulance.
"From what we know at this point, it looks like a straightforward injury and one that is quite common in cycling," Max Testa, BMC Racing Team chief medical officer, said later Sunday.
Porte had entered the day in 10th place at 57 seconds behind the leader, BMC teammate Greg Van Avermaet.
He was also nine seconds ahead of Froome with the race heading south to the Alps and Pyrenees mountains where the Australian could exploit his climbing skills.
To make matters worse for his team, its best option to take over from Porte as leader had a horrendous day on the cobbles. Tejay van Garderen was one of several riders to fall and had mechanical trouble during the extremely tough course. He managed to keep going, but plummeted in the overall standings from third place at nine seconds back to 30th at more than six minutes behind.
"It was just a bad-luck day. In the first 5K we lose Richie, today I had three flats and crash," Van Garderen said. "It's a big hit for Richie and for the (team's title hopes) obviously."
Van Avermaet expertly navigated the cobbles to finish second behind stage winner John Degenkolb and increased his lead over Froome's Sky teammate Geraint Thomas in the overall standing to 43 seconds.
"We know when we start the race that (overall lead) guys have problems on this kind of stage," Van Avermaet said. "I tried to give them confidence but it is hard. It is a big disappointment for the team that we lost Richie as soon as the race started."
BMC sports director Fabio Baldato said that with Porte out, and Van Garderen far behind, the team's only realistic goal is to try to get a stage win on the few remaining flat stages.
"We try to look for the end of the Tour to have some stages and enjoy the fun because of course the (title) and the podium is gone," he said.