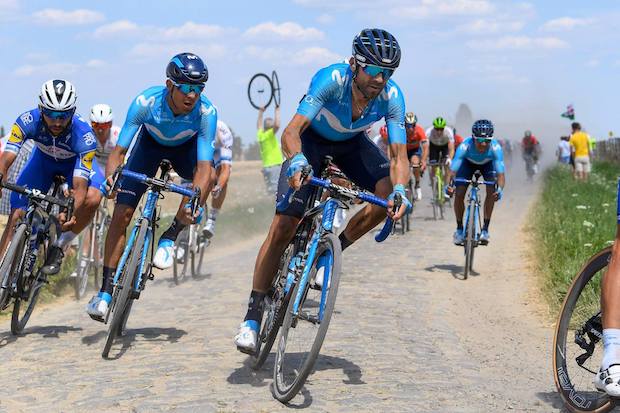 Finishing in the same time with the main GC rivals for Movistar leaders Alejandro Valverde and Nairo Quintana it felt like a victory.
"It was almost like a victory to get all three across the line today with all the favorites," said Movistar manager Eusebio Unzué. "To leave here still 'alive' is so important for us. To be at the front all day was truly impressive."
"It's been an unreal stage. A really, really hard effort, which we got through way better than expected", added Alejandro Valverde.
"After so many tough moments, the team was able to also get Mikel into our group, and that makes me so happy, because they've shown how great they can be. We made it through, and that's already success. My legs feel good at the moment, and our terrain to really shine starts on Tuesday."
"We got through a very difficult stage for us, and rode really focused, the entire team", said Quintana.
"It was a day when you needed to have very good physical condition and remain well positioned, always into alert. I had some sort of problem at the one of the early sectors and we had to go on the pursuit, but thanks to my team-mates, I could bridge back. After that, I always remained near the front, doing things well, in a very diffcult terrain for us against such talented specialists. I hope to make this gap up in the mountains, because my legs feel great at the moment."
Landa crashed hard with about 30km to go when he took his hand off the bars to take a drink and hit a hole in the road but he lost just seven seconds to the GC favorites.
"So far, so good," Landa said. "We've managed to save the day every day, including today. Seven seconds for me isn't so much when I could have lost a lot more. I am happy with how the first part of the Tour has wrapped up on a good note."