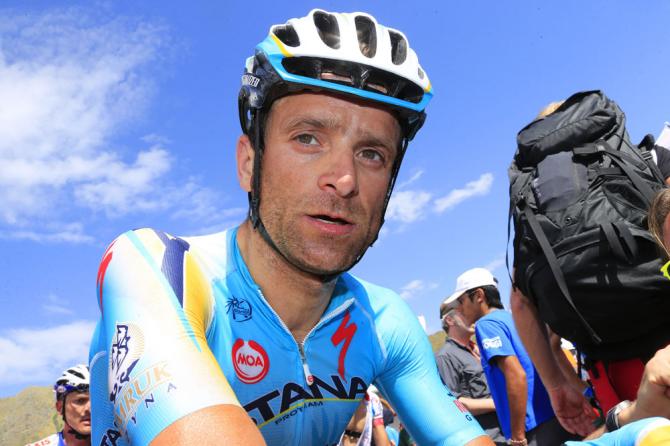 Michele Scarponi will be Fabio Aru's most important helper in 2017, when the leader of Astana will try to win his second grand tour in Giro d'Italia.
"I have not talked about programs with the team but I think my role will be to stay close to Aru at least until the Giro, to try to put it in the best possible condition. I am very encouraged to support Aru this year because I have not raced a lot with him. We'll find out how we can work together and to beat Nibali at the Giro is a big goal," Scarponi told Spaziociclismo.
"Fabio is ready. He just had a difficult season. He made his debut in the Tour and in a very difficult Tour. He was the victim of a failure in the last stage but before that he was sixth overall. It's not all to forget. Fabio has already written his name into the history of the Grand Tours, he has grown up up but he is still young. He is ready and aware of his strength."
"I am a friend of Nibali. We have spent three years together and in many races we were teammates. As a result we have created a very good relationship. For this new adventure, he has shown his interest in bringing me to Bahrain – Merida, but I'm very glad I stayed here at Astana because it is one of the most important teams in the world. I also quickly found an agreement with Vinokourov. Nibali is a great friend and will remain so, but I've simply chosen to stay at Astana."
Regarding his personal ambitions, Scarponi said: "I ride and train to try to go to the races in the best possible condition. I do not focus on a particular race where I'd like to win, but my goal is to be able to prove that I can ride strongly as I did in 2016.
"I am no longer thirty. The time for dreams or personal ambitions is over. At my age, it's hard to have the peak shape that allows you to make a real difference. But I know I can still bring a lot and I can still be of significant help to a great leader.
"This season was a good season. I was able to ride well. I was ready in the most important moments of the season, the ones I had planned with the team. I'm satisfied."