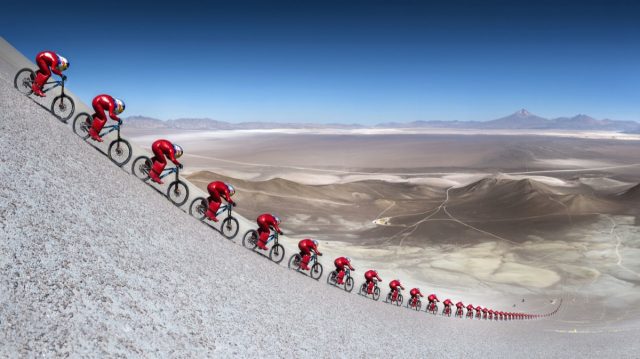 Max Stöckl beat his own 2011 speed record for a gravel slope on a production mountain bike, topping out at an astonishing 167.6-km/h.
Max Stöckl developed his passion for downhill mountain biking over 20 years ago. Infected and driven by the speed virus, he raced his way to his first speed record on snow in Les Arcs in 1999.
The Austrian then beat his mark of 187 km/h in the Chilean Andes in 2007 with over 210 km/h! Having done everything he could on the snow, he then moved his focus to gravel slopes. In 2011, Max bombed down the volcanic cone of Cerro Negro in Nicaragua at 164.95 km/h.
The downhill biking expert reveals that straight after setting this world record, he started to think about the V-Max project, saying: "The run wasn't fun enough – it wasn't a real challenge. When I came back home from Nicaragua, I started right away to look for a new mountain to ride down. We found that here in Chile."
Stöckl and his six-man support team identified Chile's Atacama Desert on the country's Pacific Coast as the place to try and set the new record.
To make the speed attempt as safe as possible, Max wore a special suit, an airbag – similar to the ones ski racers and jumpers use. The helmet that was used was self-made. The mountain bike he used was a Mondraker downhill bike. Nothing was added or changed on the bike to make it go faster.
Stöckl tested the slope eight times to work out an ideal line and to get a taste of the speed he'd been running down the slope at before going for the run to try and beat the world record.
"When you're cycling above 160-kph, each and every extra kilometre per hour requires an enormous effort. This force has an impact on the bike and the entire body. It was so exhausting, even though the ride only lasted for 20 seconds."