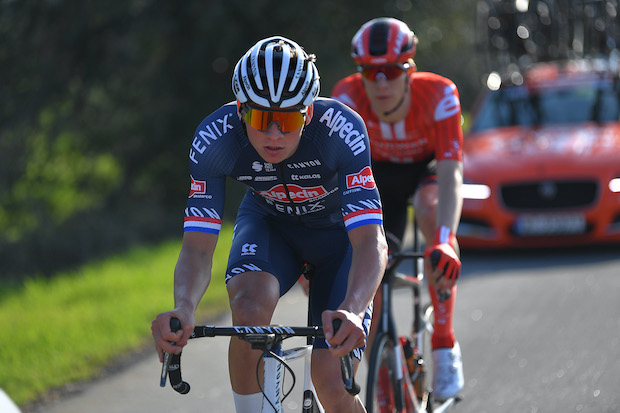 Mathieu van der Poel showed his class during last year's sprint classic season as he wowed viewers of the sport with an emphatic and extraordinary win at the Amstel Gold Race.
Van der Poel comes from a cycling family and was perhaps destined to be a top cyclist.
"They supported me from the beginning," he explains. "I enjoyed playing soccer, and they gave me the chance to enjoy both. My dad was also my coach in soccer so he was fine with me doing the sport I chose, but in the end I think they were happy that I chose cycling.
"I didn't do any road cycling at that age and in the end I chose cyclo-cross because it was an individual sport and I like to depend only on myself. That made winning a bit more attractive to me.
"Of course, my father had the experience to guide me through the first years of cycling, and it's easy when your family knows what you're doing."
With the cyclocross season done, Van der Poel will head for the sping classics on the road before a tilt at the Olympic mountain bike title.
"We monitor everything so we don't do too much," van der Poel explains. "I also take some rest during the season where people don't notice it, but it's easy to maintain because I love switching bikes, it keeps me fresh in the head, and that is maybe the most important thing." So how long can he continue racing three disciplines?
"If I want to do a Grand Tour then I think it's not possible to combine mountain bike and road cycling, so that's a choice I'm going to have to make. But for now if you just do the Classics and then you switch to mountain bike, I think it's possible to do it all year round".
"Of course I have targets, but I don't do too many races, so I will see how it goes. I think Paris-Roubaix is the one, but winning a big race will do, and trying to show that I can be consistent," he says.