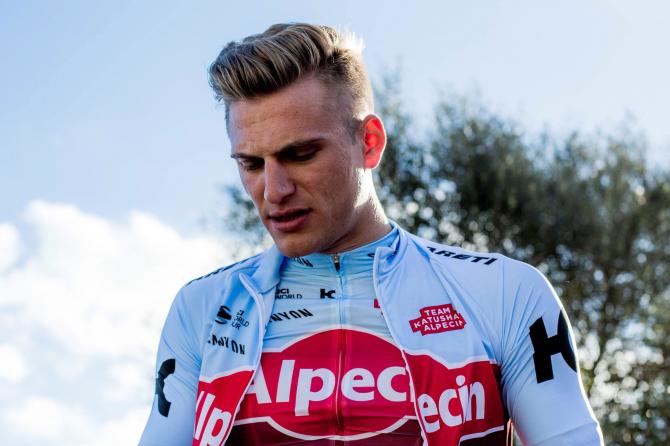 Katusha-Alpecin unveiled its new kit for the 2018 season in Calpe, Spain. 
"2017 was a big step ahead for me after a difficult prior year," said the team's big signing, Marcel Kittel. "I won five stages at the Tour that I am very proud of and feel highly motivated to be at the top again. It really satisfies me. I was so happy to be able to come back to a level I had seen in the past".
"My next big target will be getting used to my new teammates and see how we work together – that's not even thinking about winning yet. Having a great lead out team on this international Team Katusha-Alpecin is a good motivator for me. I think this is a good fit and I feel we can achieve something together. I feel very comfortable here."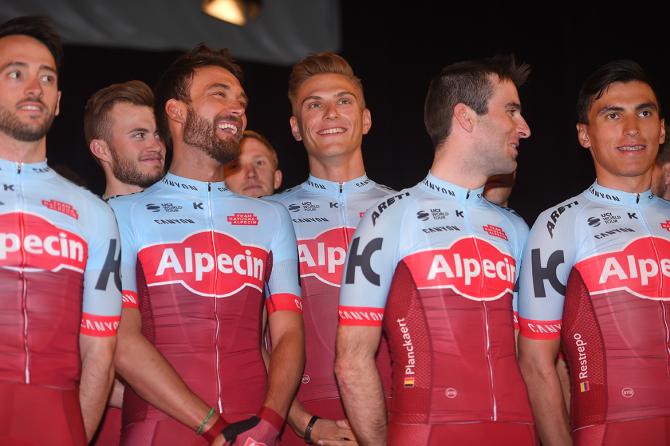 The Swiss squad looks ready to take on the new season and continue to improve on past results.
"The ambiance of our group is good. Our staff continue to work well together and they spend so much time communicating with our riders and making sure they have what they need. This area of communication is very important to me, especially as we bring new riders into our cycling family and desire to integrate them as quickly as possible. In the last 5-6 days I think we have seen that everything is going in the direction we want," said general manager Jose Azevedo.
"We have a core team that will be stronger than last year and with the exception of Alexander Kristoff, they have all continued with us. We need to thank Alex for the six years he raced with Katusha and all of the victories he brought to us. Now we move forward with another big sprinter in Marcel Kittel and I see him currently as the best sprinter in the world, as evidenced by his five stage wins in this year's Tour de France. We have riders to work for him and prepare the lead out. I think this group of riders will support Marcel in the best way. We also have a good rider who is useful in the preparation for the sprint, Alex Dowsett. We need to see improvement in our time trials, as well as our team time trials and I think we will see this help come from him."
"I have goals for the Tour even though it is a race that will be new for me. I hope to see myself make the top five. I had some doubts the middle week of the Vuelta, but I kept getting stronger and realized how good I was feeling. It is good to know this happens in the big tours and I will come with more experience to my next three-week race. My condition was very good at the end," said Ilnur Zakarin.
Azevedo added, "We see his third-place finish in the Vuelta a España as a huge step for him. The group we have around him is strong. Ian Boswell is a rider who can provide good support for Ilnur. Simon Špilak has also stepped up with the one-week races and of course we have Tony Martin, 4-time world time trial champion and Olympic silver medalist who still has more to give to the sport of cycling. We also have some young riders who are displaying promising talent. Of course, we have a plan for them that looks to the future, and we plan to help them continue to improve and be on a good level," said José Azevedo.
Tony Martin welcomes his old friend, Marcel Kittel: "It's very nice to have Marcel in the team. He's my good friend and he gives me so much motivation for my own riding. He's also super nice and a good person. I feel more confident now in the team and very comfortable. It's not my first year anymore – now the pressure is on him," Martin said with a laugh.
Katusha-Alpecin for 2018: Maxim Belkov (RUS), Jenthe Biermans (BEL), Ian Boswell (USA), Steff Cras (BEL), Alex Dowsett (GB), Matteo Fabbro (ITA), José Gonçalves (POR), Nathan Haas (AUS), Marco Haller (AUT), Reto Hollenstein (SUI), Robert Kišerlovski (CRO), Marcel Kittel (GER), Pavel Kochetkov (RUS), Viacheslav Kuznetsov (RUS), Maurits Lammertink (NED), Tiago Machado (POR), Tony Martin (GER), Marco Mathis (GER), Baptiste Planckaert (BEL), Nils Politt (GER), Jhonatan Restrepo (COL), Simon Špilak (SLO), Mads Würtz Schmidt (DEN), Willie Smit (SA), Rick Zabel (GER), Ilnur Zakarin (RUS)..