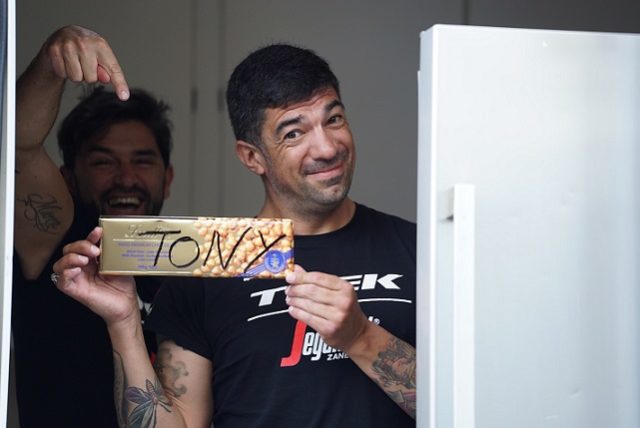 Trek-Segafredo is underlining that the team is more than just the riders, and has run several features this year documenting others involved with the organisation. 
"These are my daughters Chloé and Salomé. I have a butterfly because my wife has one too, and the rest are just things I like."
"What's this one? The Tirreno-Adriatico trophy?"
"No, that one represents my personality a bit: an angel's wing and a devil's trident."
French soigneur Tony Jouannais, from the Vendée region, where the 2018 Tour de France starts, is a big, brown-eyed bear of a man, easy to recognize on the finish line for the butcher's arms covered in ink. He had his first tattoo aged 19.
"It's not to draw attention to myself or to tell some sort of story. It's just my aesthetic sense: the same reason you have a nice motorbike."
And Tony drives a 1200cc Ducati Diavel ("0-100kph in 2.3 secs. Quicker than a Ferrari!"). He drives everything else, too: the 14m Mercedes Trevago team bus, the mechanics truck, all the way up to articulated juggernauts.
He has always worked with vehicles.
"I love them: I used to renovate old Beetles, cars from the 1960s and 1970s. My first car was a '76 Volkswagen camper which I customized. I used to do bodywork repair and painting in a garage until I decided to change career and look for work in cycling, which was my great passion."
In 1999, Jean-René Bernaudeau, now the manager at Direct Energie, offered Tony a one-year contract with training on the job. He has been in cycling ever since, with one eighteen-month hiatus.
"In one job I did, I had a bad experience, and I decided to return to civilian life."
Dans le civil – civilian life. It's an expression that captures the total immersion required by cycling.
"You spend a lot of time with your colleagues, and when they are great people, it's a pleasure. But you know what they say? 'L'enfer, c'est les autres'" – 'Hell is other people.'
"So, at the start of 2012, I took a job driving buses around La Roche-sur-Yon in the Vendée. I drove tourist coaches for a while, then made beer and wine deliveries to restaurants and bars for a year and a half (at times I was delivering Segafredo coffee too). It was a hard, physical job, shifting 10 tons a day. I used to arrive at 5:30 in the morning, when the nightclubs were closing. The drunks would bang on the truck asking for drinks.
"Then, in July 2013, Luca [Guercilena] called. I'd worked with him at Leopard, and he wanted to talk about 2014. He said, 'I need someone, and you are the person I want.' I said, 'If I come back to cycling, it will only be with you.'"
"The thing is, whatever job I do, I want to be happy: work hard, give my best, and have a good atmosphere. To me, a good environment is much more important than money. We have a major international team here, but the atmosphere is fantastic. Take Luca, the team manager, or Freddie, the head of logistics. You can just go and knock on their door. They have time for you, they want to hear from you. They are full of passion, very human, and that's how I like that."
To Tony, atmosphere is everything in the massage room too.
"I try to create a relaxing environment. The room has to be nicely arranged. You can't have things thrown around everywhere. There has to be space around the massage table, not too much light, a little music. It has to be calm, tidy, relaxing. I'm sure that any rider, in my room, knows that it is my room.
"I'm often with riders who are French speakers, but with the rest, I have to understand without words. I'm not bilingual. I tell my daughters, 'Learn languages! You'll be able to travel and speak with everyone. You'll be open to the world.' But the funny thing is, I find myself in countries all over the world, places I'd never imagined, but I'm no good at languages. It's like, if you ask me to run a marathon in 2 hours 45 minutes, I'll never do it!
"So I have to communicate through touch. I have to understand what the rider wants, where he has knots and muscle pain, where it feels sensitive. I have to use touch to convince them to have confidence in me because each rider wants something different. One wants a deeper massage, another wants something more superficial, some want you to avoid certain places, and so on."
"Soigneurs." he says, "are essentially givers. You give the riders bidons, food, company, massages. You clean up behind them, and you do it all without expecting anything back from them. You carry their suitcases, drive them to the airport. If you are the bus driver, you are in charge of a moving house, but it's not your house, it's the family house. You keep it clean and orderly so that, when the riders come back, they feel at home. That's how I see it."
He tells a story about a race in the past when Fabian Cancellara was the first into the bus one morning.
"He had some time to himself to relax, and he looked around and then said, "Tony, are you the one who cleans up the bus?"
I nodded.
"You put everything in order?"
I nodded again.
"And you do the massages?"
He smiled and said, "Thanks."
And I took that as an immense compliment.
The recent Tour of Italy met all Tony's desire for adventure.
"The opportunity to do a Grand Tour is fantastic. In Italy, we started in Sardinia, which has its own culture, and Sicily, which has its own culture. You see every department, every region. And we have team staff from every area who sing the praises of their home region. I'm always asking my colleagues, 'If I go to your country on holiday, where should I go? What should I see? And they draw me a map…" My only regret is that, if my old English teacher saw me now, I know he would be disappointed!"