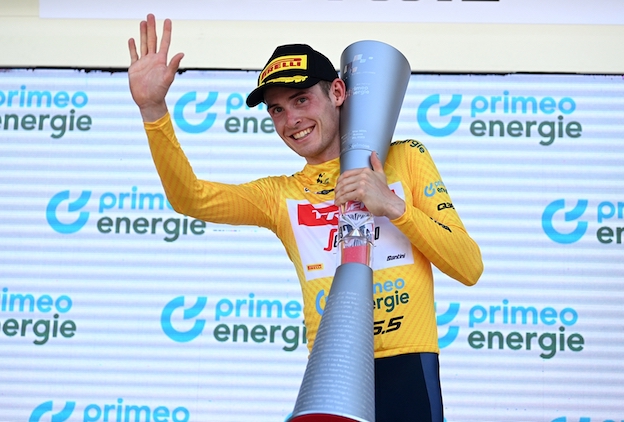 Two days after the death of Gino Mäder from injuries suffered in a crash at the Tour de Suisse, Mattias Skjelmose dedicated his race victory Sunday to the Swiss rider.
Skjelmose maintained his lead in the overall standings and finished just nine seconds ahead of Juan Ayuso, who was fastest in the closing time trial.
"I wanted to win for Gino, I think everyone today raced for him," Skjelmose said. "Everyone I spoke to said he was the most wonderful person you could ever imagine."
Mäder went off the road and crashed down a ravine on a fast descent near the end of Thursday's mountainous fifth stage. He was airlifted to a hospital. The 26-year-old rider's death was announced less than an hour before the scheduled start of Friday's stage, which was canceled.
On Saturday, three teams including Mäder's Bahrain-Victories declined to continue and the stage was raced as a tribute to him.
Ayuso won the 25.7-kilometer time trial Sunday from St. Gallen to Abtwil after briefly holding a virtual lead over Skjelmose. Ayuso finished eight seconds ahead of Remco Evenepoel and nine seconds quicker than Skjelmose.
Evenepoel moved up to third place overall and at age 23 the Belgian world champion was the oldest rider on the podium.
"This is a 𝒔𝒑𝒆𝒄𝒊𝒂𝒍, 𝒔𝒑𝒆𝒄𝒊𝒂𝒍 ride by an extremely 𝒔𝒑𝒆𝒄𝒊𝒂𝒍 rider!" 🌟

20-year-old Juan Ayuso is looking like a seasoned pro in the time trial 💪 pic.twitter.com/n5ihuD7VvT

— Eurosport (@eurosport) June 18, 2023