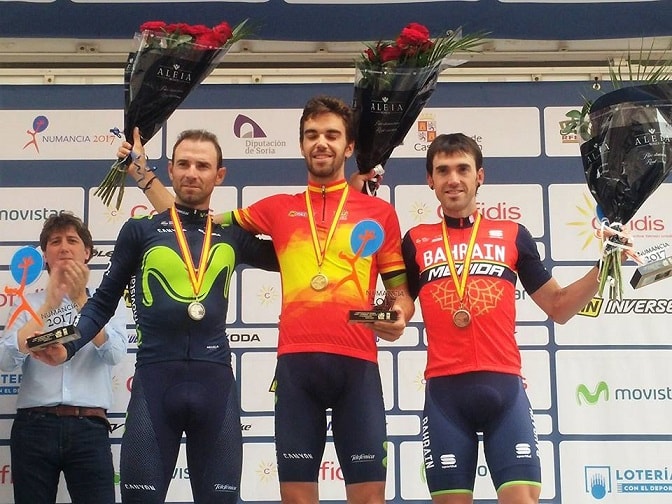 For the eighth year in a row, the Movistar Team dominated the Spanish Road Race Championships held in the province of Soria this weekend.
Jesús Herrada claimed his second national title, four years after his maiden 'rojigualdo' jersey in Bembibre, by taking to fruition a late five-man move, into the last lap of the 207.3km course in the north of the Spain.
At the penultimate lap, Movistar pushed hard to break the field and left only 30 riders at the front, including nine of the team. From that group, the decisive move jumped with less than 10km remaining: Valverde, Herrada, Ezquerra (STA), Mas (CJR) and Ion Izagirre (TBM) took a 30-second gap no one could make up. Jesús Herrada launched his winning attack into the last kilometer uphill, under Valverde's vigilance of his rivals.
"That big break from the start could seem a bit dangerous, but soon it was reduced to nine riders, with Imanol and Antonio, so it meant no problem for us", said Herrada. "We kept the pace steady and strong, all of our team-mates giving their 100%, and also seeking for the right moment to attack. With two laps to go we took advantage from a less-protected zone against the wind to split the bunch, leaving those 25-30 riders at the front, and then at the same point, with like seven, eight kilometers to go, Alejandro went full-gas and only we five could follow him. Coming back into Soria, only Ion and us two were able to keep the pace – Alejandro did as he wished, setting the pace we needed, and I only had to sprint with everything I had and enjoy this victory.
"That first title in 2013 was quite more surprising for everybody, myself included. I was almost an under-23 rider, and was really unexpected. As I matured inside the team I got more confidence for races like the Nationals, and I know that this year's finish in Soria really suited me. The 2015 race in Cáceres, when I got the bronze medal, also favoured my chances, but even if it was hotter there, the route was easier – and I think today's finish was a really steep one. The wind and the early climbs on today's route also made for a more demanding route, so I think it has been better for me. I feel like we made it a beautiful race for the fans.
"Friday's race was difficult to win, given that Jonathan was lining up (laughs), but to be honest, for us it was only important to take back the TT title, no matter the name under it, so we were happy. Getting a podium finish in the time trial was already great, even more so to claim this second road race title, and I hope I can aim for the TT one in the future so I can have both before I retire."