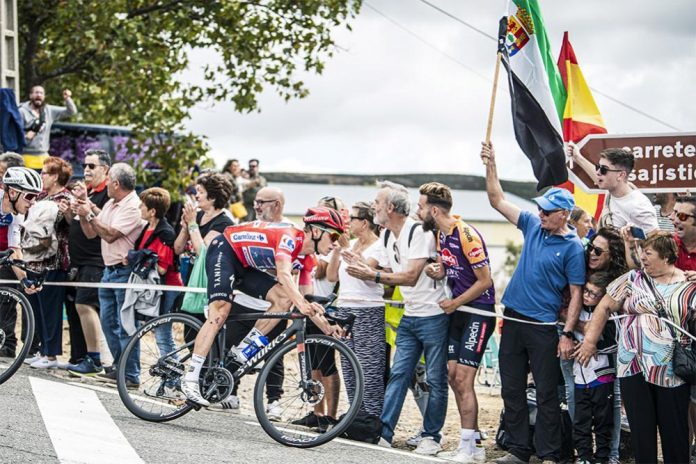 After a spectacular stage instigated by team UAE Emirates for Joao Almeida, La Vuelta a Espana 2022 stage 19 promises to be a feast for the eyes.
La Vuelta a Espana 2022 stage 18 review
After multiple attempts of trying to break the Maillot Rojo, Enric Mas finally lead out Remco Evenepoel to crash Robert Gesink's hope in a scintillating stage 17. Remco Evenepoel looks inevitable and all hope for Enric Mas to upset the Belgian lies in Stage 20.
La Vuelta a Espana 2022 stage 19 preview
A very short stage that will feature the Puerto del Pielago climb twice. Interestingly, it is the first stage of this year's Vuelta that starts with a consequent climb. After 3 weeks, this could trouble some of the sprinters.
The star of the day, Puerto del Peilago is a 9.3 km effort at 5.6%. The short nature of the course is destined to the brave climbers that can also desend well unless….
We have seen how crazy cycling became and with only 134 riders, we could be in for an exciting one where the big bigs go to play from km 0.
Although, Remco has made massive improvements in terms of his decending skills, Team Movistar will try to put the leader in difficulty on the way down.
La Vuelta a Espana 2022 stage 18 predictions
★☆☆☆☆ Remco Evenepoel 
The strongest man in the race. He has been solid when put under pressure and has responded to every attacks rather comfortably. The double mid mountain climb is just what he needs to create a bigger gap and put this Vuelta beyond reach.
★★☆☆☆ Rohan Dennis
His form is rather questionable but after two very heart breaking days for Team Jumbo Visma, a second category  effort is not an actual mountain to climb for Rohan Dennis. This is the perfect opportunity for him to cast some smiles back on Team Jumbo Visma and their fans.
★★★☆☆ Alejandro Valverde
He will have marked this stage as his own. With the rather gentle slope of the Puerta Del Peilago, and the short stage, this will be the perfect opportunity for him to say goodbye in style.
As much as the profile suits him, his team could have other plans for him with respect to Enric Mas.
★★★★☆ Mikel Landa

Landismo, a not so bad descender himself and will have to follow every move from the start. His performance in this Vuelta has been nothing short of disappointing.
A stage win from the Giro 2022 3rd finisher here will certainly be most welcomed by Team Bahrain Victorious who have been completely absent since the start of the Tour de France.
★★★★★ Vincenzo Nibali
The stage profile of La Vuelta a Espana 2022 stage 19, with not too sharp climbs and long descents has all the elements required for a final shark attack.
Just like Alejandro Valverde, the Italian will either  have to follow the early moves or make them himself.
A final legendary 40km descent to the line from the two time Giro winner, one time Tour de France and Vuelta to finally close his career in spectacular fashion is all we ask for.
An exclusive post by A LeadOut for Cycling.today
Watch La Vuelta a Espana 2022  live and free on cycling.today on either of the two links