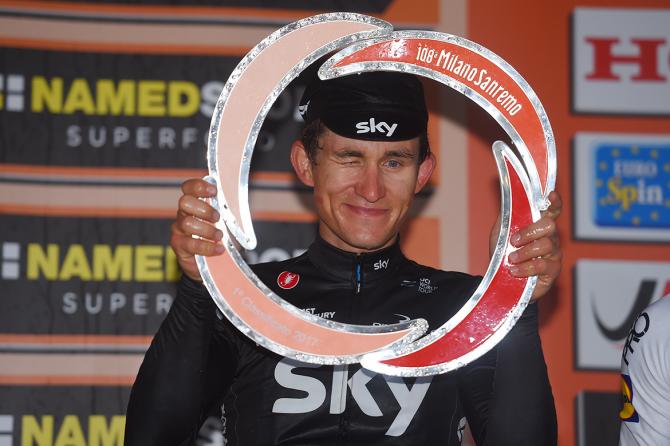 Michal Kwiatkowski took the honours in Milano-Sanremo with a last-gasp lunge to deny Peter Sagan's second Monument win.
The climbs of both the Cipressa and the Poggio were the fastest in recent history. Kwiatkowski shared his race winning ride on Strava and chose to provide his power data from the immense effort as well.
The Cipressa, a 5.5-kilometre climb at an average gradient of 4.1 per cent was climbed at a simply astounding speed of 34.78kph by the 50 or so riders who were left in the bunch then.
With 9.4 km to go the race hit the final climb, the Poggio which is 3.6-km long with an average gradient of 3.7 per cent. Kwiatkowski averaged 443 watts on his ascent of the Poggio which took 5:47 with an average heart rate of 181 bpm and average cadence of 99 rpm.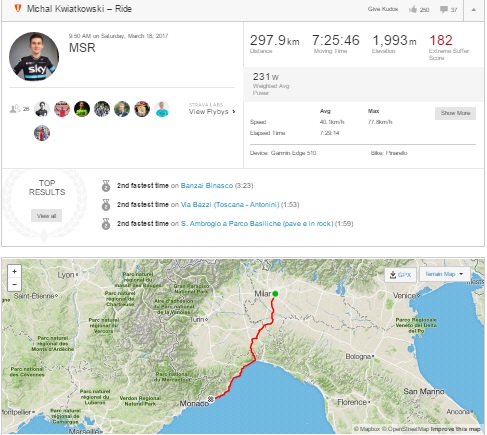 The effort earned him the Strava KOM. It was with a kilometre left in the climb that Sagan attacked and to follow the world champion and Alaphilippe, Kwiatkowski averaged 612 watts with a max of 934 watts.

Kwiatkowski also hit his maximum heart rate for the day hitting 190 bpm in the final metres of the climb.