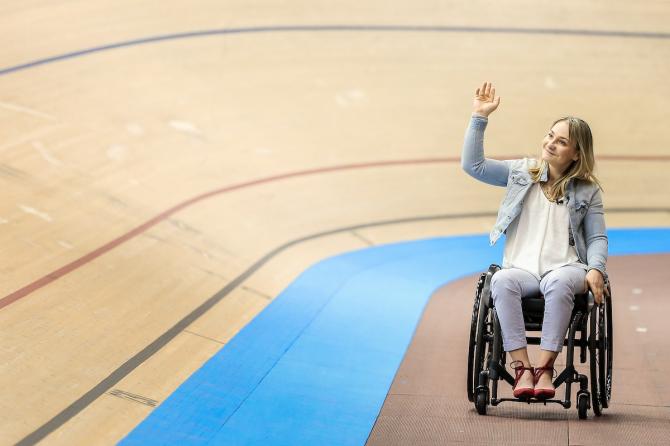 Kristina Vogel made an emotional appearance in front of home crowds at the Velodrom in Berlin, where she was awarded the title of Cyclist of the Year by the German Federation.
The two-time Olympic champion had an accident while training in June. Since then, she has been paralyzed by the seventh thoracic vertebra, working intensively in rehab at the Unfallkrankenhaus Berlin.
"It was very moving," Vogel told L'Equipe. "I don't miss competition but on the other hand I do miss this community, these people. I've shared some very good and also very bad moments with them. They're my cycling family."
"I'm not angry. Of course, there are moments when I feel sad, but I say to myself that I can do what I want, and I've always thought that the quicker you accept a situation, the quicker you can deal with it and bounce back,"
"I'm not going to lie, sometimes I hate what's happened to me, I get a bit jealous of people who are walking in the street, but I also see people who are completely paralysed, who can only move their heads, and then I tell myself it's ok. I'm happy to be alive, I'm still the same person I was six months ago. You have to go on, that's all."
"For the moment, I'm very happy to no longer be competing. At the level I was at, it's frightening. Day after day, it's all you think about – today's training, tomorrow's training, the next race. You'd like to watch a film but you've got to go to bed because tomorrow's session is a tough one. Everyone wanted to see me lose, and that was really very hard for me," she said.
Vogel plans her future without competitive sports:
"Now, for the first time, I only do things for myself and I can take my time. I missed out on a lot of things as an athlete. Now I'm very far from the concerns of an elite-level athlete. Being successful in Paralympic sport would take me several years, because I wouldn't want to be second – I'd want to win. At the moment, I want to live – that's all. Live like anyone else my age."