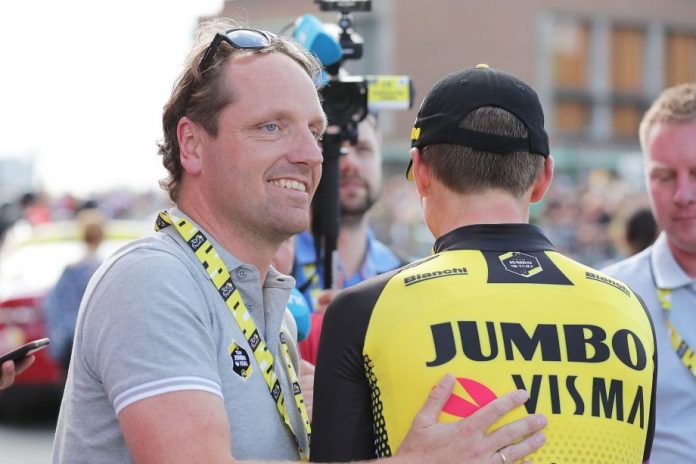 Merjin Zeeman, one of the lead sport directors at Jumbo-Visma, was excluded from the Tour de France for intimidating and insulting a member of the International Cycling Union (UCI) at the end of Thursday's 17th stage.
The day's jury report, which lists all the fines handed after a Tour stage, said that Zeeman had also been fined 2,000 Swiss Francs ($2,200) for his behaviour towards an official responsible for inspecting the bikes at the end of the stage.
In a statement issued by the UCI, the governing body said that Zeeman behaved "In an unacceptable manner toward the UCI staff."
"Mr. Zeeman behaved in an unacceptable manner towards the Union Cycliste Internationale (UCI) staff responsible for carrying out an X-ray control and then dismantling the Yellow Jersey bike at the finish of the stage at Col de la Loze in accordance with UCI regulations relating to the fight against technological fraud," the statement said.
"As a result, Mr. Zeeman was excluded from the event and fined CHF 2,000. The UCI has made the fight against technological fraud one of its priorities to ensure the credibility of the results, and calls on all cycling families (riders, teams and organizers) to join forces to ensure the reputation of our sport."
"Primoz's bicycle was damaged during this dismantling. Despite this incident, I should have kept my cool and approached the UCI Commissioner respectfully. I regret not doing this," Zeeman wrote on Twitter. "After this incident, I immediately apologized to the UCI commissioner concerned, who also accepted my apologies. I am devastated, but our yellow dream lives on."
The UCI check several bikes after a race or a grand tour stage in an effort to fight against mechanical doping.