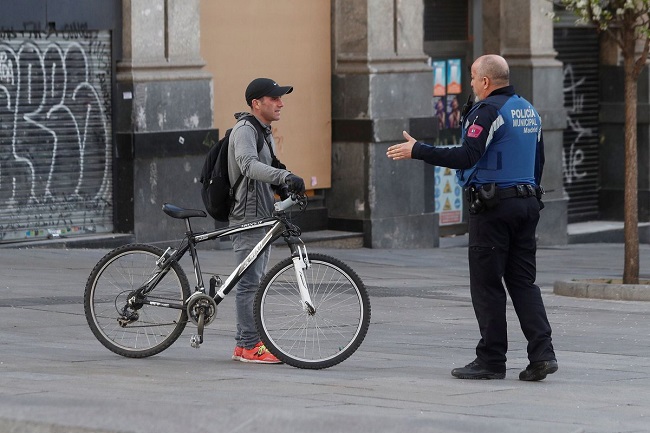 After the Italian government banned cycling outdoors last week, not even for recreational purposes, all cycling has been prohibited in Spain as well.
Professional cyclists living in Girona heading out for training rides were told to return home. Cyclists in other parts of Spain were being advised they will not be allowed to ride during the state of alarm.
If the journey is not for food or medical supplies, riders could face a €3,000 penalty, according to several sources.
About 100 international men and women pros live in Spain, especially around the Girona area, in Catalunya. Several teams also have their service course in the area as well.
El Pais reports that fines begin at €100, but with the possibility of one year in prison should people disobey police and authority figures while they carry out their duties.
The current lockdown in Spain was scheduled to last for 15 days, beginning on 14th March. However, depending on the severity of the outbreak across the country, restrictions could be in place for a greater length of time.
Spanish health authorities are urging cyclists to stay at home not only because of the threat of infection, but rather the risk of putting additional stresses in case of an accident on an already over-burdened healthcare system.
"Stay at home and put the bike aside," said Carlos Mascias, medical director of a private hospital in Madrid. "Whatever possibility to minimize the impact on the resources of medical services that is not directed toward coronavirus is primordial.
"If any cyclist suffers an incident and needs an ambulance or a bed in intensive care, we are taking it away from people who truly need it, who are now arriving en masse to hospitals," he continued. "If something happens to you now, maybe you have a chance [to be treated], but you will be taking it away from someone else … but in 48 hours, if something happens to you, the one who is left without [ICU] might be you, those who are now riding your bikes."